Pinchimik Team (A) lift 1st Bakula Rinpoche Archery running trophy
By
Reach Ladakh Correspondent
DIGAR, Feb 02, 2018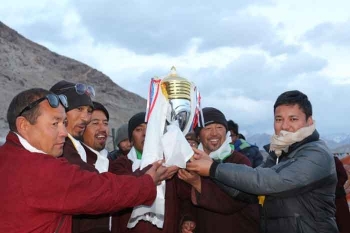 DIGAR :
To mark the Birth Centenary of HE Kushok Bakula Rinpoche, Ist Bakula Rinpoche Archery Running Trophy was organized by Lothun Kunfun Shesrig Tsogspa and Bakula Rinpoche Centenary committee on December 27 in Digar, Nubra.
Tsering Sandup, EC Tourism was the Chief Guest of the occasion. Dr.Sonam Angchuk, General Secretary, Bakula Rinpoche Centenary committee BCC and Tsering Angchuk Councillor, Diskit were the guest of honor.
Speaking on the occasion, TseringSandup, EC Tourism stressed upon the gathering to follow the path, values, and teaching of 19th Kushok Bakula Rinpoche.
Tundup Tsephel, President, Lothun Kunfun Shesrig Tsogspa gave a presentation on the life of HE Kushok Bakula and his role in public life.
Dr. Sonam Angchuk, TseringAngchuk, and Rinchen Beshu also highlighted HE Kushok Bakula Rinpoche aims and contribute to the society.
Lothun Kunfun Shesrig Tsogspa has also arranged seven days archery coaching program to under 16 aged children in which 16 boys and girls took part.
In the Archery competition, Pinchimik Team (A) won by 261 points. The runner-up team Samstan Odsal Tsogspa Sumur got 247 points.
Tsering Motup, Captain, Sumur team with 84 points came first, Stanzin Nurbu, Digar Red with 82 points came second and Tsewang Stobdan, Captain, Diskit team with 79 points came third.