Ladakh Scouts Red lift CEC Archery Cup
By
Reach Ladakh Correspondent
LEH, Dec 02, 2017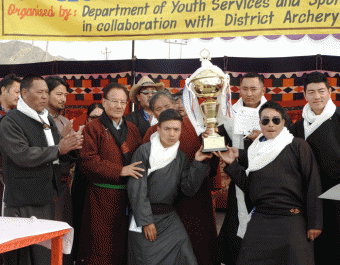 LEH :
The concluding function of the 3rd CEC Archery Championship was held on November 13 jointly organised by the District Youth Services and Sports Department and District Archery Association Leh.
As many as 22 teams including Archery teams from Ladakh Scouts, PAGIR, Nubra, and Changthang participated in the championship.
Dr. Sonam Dawa, Chief Executive Councilor said that Hill Council, Leh would seriously consider on creating an Archery Stadium in Leh that would further thrive archery in the region.
Ladakh Scouts Red team lifted the 3rd CEC Archery championship by securing maximum points while as Ladakh Scouts Blue bagged the Runner-Up Cup.
The Deputy Commissioner, Leh Avny Lavasa was the guest of honor on the occasion.
Dr. Sonam Dawa said that a lot of improvement has been done in a short span of one or two years in archery in Ladakh. He urged the people especially the younger generation to remain rooted in this traditional game.
He further appreciated the teams of PAGIR who despite experiencing physical challenges, enthusiastically participated in the championship and made a sturdy presence in the society. He also welcomed the teams from Ladakh Scouts.
Later, Dr. Sonam Dawa and EC, Education Dorjey Motup gave away the winner and runner-up cups to the winning teams. Few Councilors, Comdt. Ladakh Scouts, Col. Dass, District Youth Service & Sports Officer, district officers and a good number of archery lovers also attended the function.