Kargil all set to strengthen sports sector
By
Reach Ladakh Correspondent
KARGIL, May 14, 2018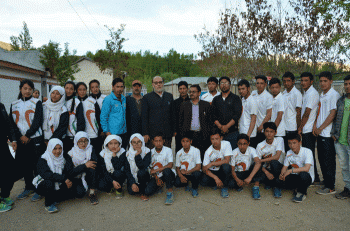 KARGIL :
Kacho Ahmad Ali Khan CEC, Kargil visited Sports Authority of India Special Area Games Center at Baghe Khomeini Kargil on May 11 in Kargil.
Underlining the potential of Kargil to emerge as a promising high altitude sporting destination in the country, he said that suitable land shall be identified for establishment of a High Altitude Training Center in due course of time, so that a reputed centre like the High Altitude Training Center at Shilaru in Himachal Pradesh could be established at Kargil as well.
He said that all requisite measures would be taken to accomplish the modalities for the establishment of a high altitude training center in Kargil.
CEC said that the local players have great talent in a sport which needs to be properly groomed and channelize in the right direction so that can compete at the national and international arena.
Meanwhile, a number of issues were raised by the center authorities to the CEC which included a provision of lighting apparatus in the center campus, drinking water facilities, and other related issues etc.
He assured resolution of all genuine demands in a phased manner.
Advocate Muhammad Amir, Executive Councillor for Youth Services and Sports, In Charge of the Games Centre and Senior Football coach S.K Sharma, other functionaries of the center and several officers of the civil administration accompanied the CEC.