ITBP High Altitude Football Cup 2017: Team Oasis beat Mahabodhi with 3-1 goals
By
Rigzin Wangmo
CHOGLAMSAR, Nov 15, 2017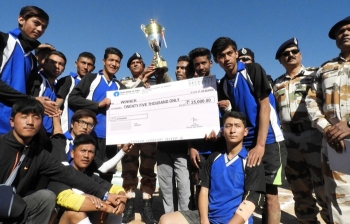 CHOGLAMSAR :
The mega football tournament, 'ITBP High Altitude Football Cup 2017' concluded on October 30 at 5th Battalion ITBP ground, Choglamsar.
The final match was played between Oasis and Mahabodhi in which team Oasis lifted the tournament cup.
The event was funded by the Home Ministry and supported by ITBP Delhi, North West Frontier Chandigarh, Sector Head Quarter Ladakh and the entire unit of ITBP.
A total of 40 teams participated in the tournament. The teams who played in the finals will be sent to the different states to play with other teams in order to develop more skills and to aware people about the teams of Ladakh.
JP Yadav, DIG, Sector Headquarter, Ladakh, said, "We expected very less participation in the beginning but when it started there were 40 teams and I really appreciate their motivation".
He said, "The tournament was organized to spread awareness and to develop an interest in the sport among the youth. It has been observed that many outsiders assume that Ladakh is a cold region and sports activities are very less, all they have heard about is Ice Hockey and Cricket. Thus, organizing football match is a positive step towards developing an interest in every sport."
Chering Dorjay, Minister for Cooperative and Ladakh Affairs appreciates ITBP Ladakh for organizing the football match for the first time in Leh.
He said, "I am very proud of the players of Ladakh who are excelling in different sports and it is good to see people taking interests in football as well. We should encourage our children to play sports and encouragement is needed to play at the national and international levels."
The champions were felicitated with the cash price of ₹ 25000 and the runner-up with ₹ 20,000.