Girls' professional football academy set up in Leh
40 girls selected for further training at state level
By
Reach Ladakh Correspondent
LEH, May 31, 2018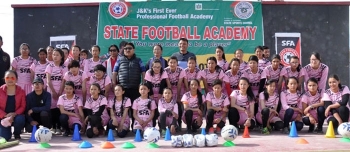 LEH :
The first girl's professional football academy comprising 40 girls was set up on May 17 in Leh.
More than 200 girls participated in the preliminary trial out of which about 40 girls representing various schools of Leh district were selected by J&K State Sports Council and State Football Association for further training at the state level.
Expressing happiness over the formation of girl's professional football academy in Leh for the first time Gyal P Wangyal, EC congratulated the selected girls and urged them to work hard under the professional coaches.
He hoped that they will represent the state as well as India in future.
Also being a member of J&K State Sports Council he said that all effort is put to provide equal opportunity and facilities to the sportsperson of Ladakh region like Jammu and Kashmir.
Talking about the importance of complete coaching and other facilities to groom sportsperson, he urged the organisers and coaches to take the ongoing training to a conclusion quipping that in past there were instances in Leh that such activities failed without any reason.
Rinchen Lamo, Nominated Councilor for women said that girls of Ladakh have immense potential in sports but due to lack of facilities and platform their talents remain neglected.
Encouraging the selected girls, she said that sports is very important for student to inculcate teamwork spirit, discipline and personality development.