District police, Leh, organises ice hockey coaching camp for differently-abled children
By
Rigzin Wangmo
LEH, Feb 02, 2018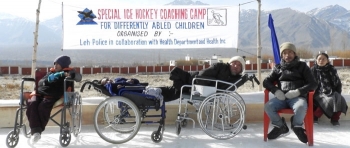 LEH :
A ten day long Special Ice Hockey coaching camp for the differently abled children started from January 10 at New Police Complex, Agling, Leh.
The camp is organised for the first time by District Police, Leh in collaboration with Health Department and Health Inc.
Stanzin Losal , Additional Superintendent of Police said that besides giving coaching in ice hockey and ice skating, the main motive of this winter camp is to involve the differently abled children in the mainstream.
"The 10-day camp will be held under the supervision of all the coaches from Canada, USA and local coaches of District Police Leh. Learning classes on drawing, painting and moral education will also be the part of the camp", he added.
Expressing his contentment, Mohammad Iqbal, President, PAGIR thanked the organisers for involving differently abled children.
He said, "Earlier the differently abled people were framed out of such opportunities and today for the first time the children are here in the rink and they are very happy about it. Such efforts will bring positive change in society towards disabled persons and hoped that such camp will continue in future also."
Cynthia Hunt, Canadian woman working with Health Inc in Ladakh said, "This winter we are teaching ice hockey to the disabled children. The J&K police have welcomed us here in Agling, we are here for 10 days coaching and also will be taken to the hospital to see some specialist while they are in Leh".
She further added, "Health Inc has been operating winter camps for 11 years now in remote villages. In 2008, a disability camp was organized in Domkhar village and since then people of remote villages have been asking us to do another disability camp. This is the first time we are doing here in Leh. We have three coaches from Canada, four from Hemishukpachan, one from Domkar, one from Kanji and two from the police department. We are hoping people from Canadian High Commission next week to talk to SSP Leh about making this a permanent program here in Leh."
Sonam Dorjey, DSP (DAR) Leh talking about the 10-day camp said that the main purpose for organising this camp is to create a favourable environment for special children and to inculcate sportsmen spirit among them."
Students of PAGIR and children from far-off villages like Hanu, Skurbuchan and Domkhar took part in it.