88 players participates in badminton tournament in Kargil
By
Reach Ladakh Correspondent
KARGIL, May 14, 2018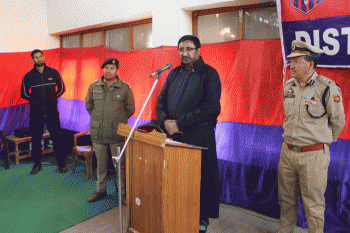 KARGIL :
Badminton tournament for three days under Civic Action Programme was organised by District Police Kargil was started on May 13 at Indoor Stadium, Kargil.
The tournament was inaugurated by Haji Anayat Ali, Chairman Legislative Council.
A total of 88 players including students of different educational institutions as well as amateur players under Senior and Junior categories participated.
Haji Anayat Ali while appreciating the efforts of District Police Kargil for organizing the tournament, expressed hope that the event will boost police and public relation in the district.
He also hailed the endeavors of District Police Kargil particularly Tsering Gyalpo, SSP Kargil for carrying out the renovation and face-lifting of Police infrastructure in the district.
He urged upon the youngsters to maintain a healthy balance between studies and games and can also strive hard to pursue a career in the sporting world.
He informed about the plan to develop Kargil as a promising winter sports destination in the country.
Highlighting the aims and objectives of the event, Tsering Gylapo, SSP said that the tournament is organised with an aim to channelize energy and talent of the youth in the right direction besides giving impetus to police public relations.