30 physical education teachers of twin districts attend orientation training in Kargil
By
Reach Ladakh Correspondent
KARGIL, Apr 04, 2018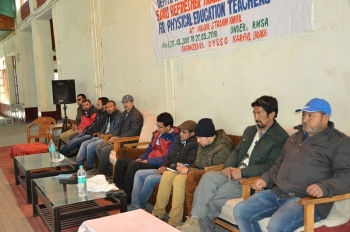 KARGIL :
Orientation course for Physical Education teachers (PETs) of Leh and Kargil districts organised by District Youth Services and Sports Department, Kargil was held for 3 days starting on March 23 at Indoor stadium, Kargil.
Muhammad Hussain, EC Health said that in order to develop the personality of the children besides to attain perfection in body, mind and spirit, focused attention on physical education is the need of the hour.
Underlining the need to maintain the judicious balance between sports and curricular activities, he urged upon the physical education teachers to engage children in sports and physical exercises during school hours by giving them opportunities.
Responding to the demand for conducting such orientation courses in the district in future, Muhammad Hussain assured to take up the issue with CEC Kargil adding to it efforts will be made to include special grants in the annual district plan.
Physical Education Lecturers from Kargil district imparted theoretical as well as practical training to 30 PETs from the twin districts on the methods, regulations, amended rules and other essential aspects of Football, Kabaddi, Kho Kho, Volley Ball and other games.
Aga Syed Taha, in Charge District Youth Services and Sports Officer Kargil, Haji Muhammad Jaffar, Zonal Physical Education Officer Kargil and Muhammad Hussain Rehnuma also spoke on the occasion.