27 players participate in Ice Hockey Skill camp in Drass
By
Reach Ladakh Correspondent
KARGIL, Mar 30, 2018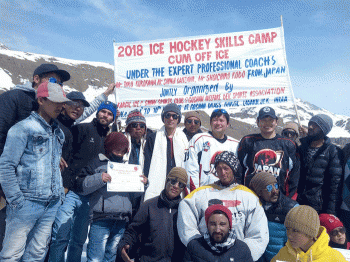 KARGIL :
A weeklong 'Ice hockey skill camp' organised by Kargil Ice and Snow Sports Club in collaboration with Goshan Welfare Development Sports Association was concluded on March 10 at Goshan Drass, Kargil.
The camp was organised under the Japanese expert Taro Kurokawa, Shinji Banzawa, and Shoichiro Kudo. A total of 27 players participated.
Kacho Ahmad Ali Khan, CEC assured all support from the Hill Council for the promotion of Ice Hockey in the district.
Mohd. Ishaq, President, Goshan Welfare Dev Sports Association, Drass thanked Ice and Snow Sports Kargil for conducting coaching camp in Drass.
Aman Ali, Gen Secretary, Kargil Ice & Snow Sports Club briefed about the winter sports activities in the region. He said that this will not only help in developing Ice Hockey in the region but will also promote adventure tourism in the region.
He also thanked the Hockey Foundation, Canadian Himalayan Association for Innovation and Help Fund for sponsoring of equipment to the Kargil Clubs.
Later, certificates were presented to the all the participants.