24 teams participate in 5th Akbar Ladakhi tournament
By
Reach Ladakh Correspondent
THIKSEY, Feb 16, 2018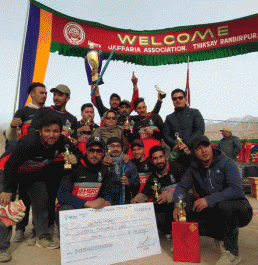 THIKSEY :
The 5th Akbar Ladakhi T20 Tournament final cricket match was held on February 11 at Ranbirpur Thiksay. A total 24 teams participated in the tournament.
The last match was played between United Fans and Spartan Club, where the United Fans lifted the trophy and the association presented ₹ 16,000 to the winning team and ₹11,000 for the runner-up team.
Sayeeda Bano Ladakhi was the chief guest of the tournament. While, Muzaffar Hussain, the Nambardar and all the Members were also present.