20 teams take part in Football champion league in Leh
Dream team and United Spituk along with EC, Gyal P Wangyal on the opening day.
By
Rigzin Wangmo
LEH, Jun 29, 2018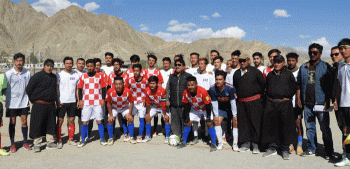 LEH :
In remembrance of Gyalsras Kushok Bakula Rinpoche, the 2nd Football Champion League organised by Kunfan Dytsogs Club kick started on June 16 at NDS ground, Leh. A total of 20 teams took part in the champion league.
Gyal P Wangyal Executive Councillor, chief guest, congratulated Kunfan Dytsogs Club and people of Spituk for organising the Football Champion League and suggested to organise every year in remembrance of Kushok Bakula Rinpoche to aware and remember his contribution towards the society.
He informed about the establishment of Jammu Kashmir Football Academy, Leh in the year 2017. The selected boys are getting trained under the professional coach in Leh itself.
Also, this year it has started for girls also in which around 40 girls are getting trained.
Gyal P Wangyal said that a proposal to J&K Sports Council has been sent for the upgradation of NDS ground with water, toilet facilities and a provision of synthetic turf.
Nawang Tsering, President, Kunfan Dytsogs Club said, "We feel fortunate to organise the Football Champions League in remembrance of Kushok Bakula Rinpoche and appreciated everyone for their presence."
Lobzang Tsewang, Nambardar, Spituk said that there were 30 teams in the beginning but had to select 20 teams due to limited time. He said that in future they will plan accordingly for more teams.
On an inaugural day, an exhibition match was played between United Spituk and Dream Team. Dream Team won the match by 2 goals.