Zaheer Hussain elected President, Municipal Committee, Kargil
By
Reach Ladakh Correspondent
KARGIL, Nov 16, 2018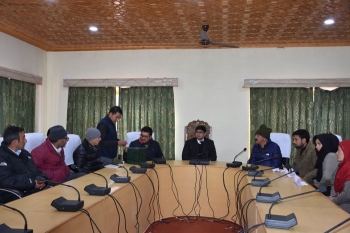 KARGIL :
Independent candidates, Zaheer Hussain elected as the President, Municipal Committee, Kargil and Gulzar Hussain as Vice-president by the margin of 1 vote on November 13.
The election was held under the chairmanship of Deputy Commissioner and CEO, LAHDC, Kargil Vikas Kundal at Conference Hall of Tourist Facilitation Center (TFC) Kargil.
Zaheer got 7 votes out of 13 and defeated Indian National Congress (INC) candidate Advocate Khadim Hussain. While Gulzar Hussain got 7 votes out of 13 by defeating Mohammad Ali, an INC candidate.
Out of 13 seats, the independent candidates won 8 seats while INC candidates secured 5 seats in Municipal Committee election in Kargil.
Earlier, Sonam Chosjor, ADC invited the proposal of names for the posts of President and Vice-President from all the members which were followed by the secret ballot voting.
Zaheer Hussain, President MC, Kargil thanked all members for electing him and sought their full support and cooperation to work for the overall development of Kargil town.
He said that he is committed to working for the welfare of the people of Kargil town and his priority would be to mitigate the issues confronting the people.
Executive Officer, MC Kargil Abdul Gaffar Zargar, Headquarter Assistant to DC Kargil, Muhammad Shabir, Assistant Director Information Kargil, Muhammad Ali Tak, and other concerned officers were also present on the occasion.