Youth organizations making difference in Ladakh
By
Rigzin Wangmo
Leh, May 20, 2019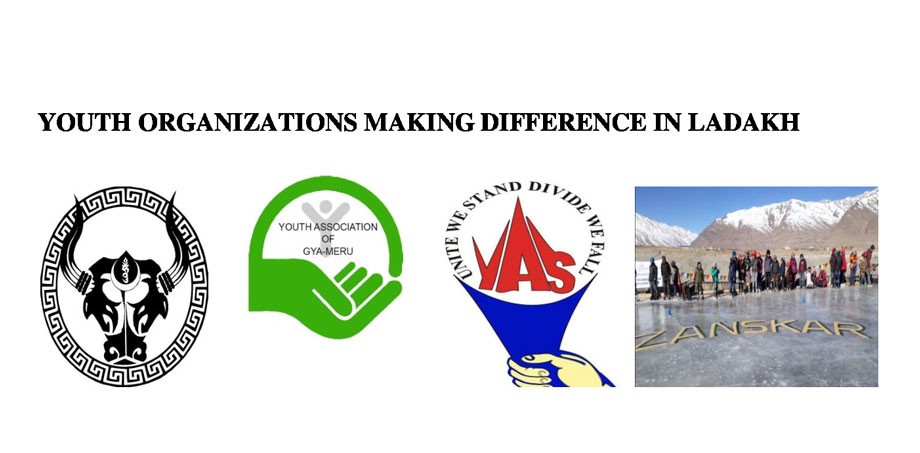 Leh :
Youth Association Kanji (YAK)
Brings together the youth of Kanji on a common platform to serve their community and engage them in building a more educated and developed society. Besides objectives on the environment, health, culture, tradition, sports, protection of wildlife & responsible tourism, YAK primarily focuses & aims for the development of the Education system for the Kids, the welfare of the villagers and protection of the youth's rights.
YAK works on its own annually planned projects and plans decided in compliance with the Association's aims and objectives. Kanji is a beautiful unexplored tourist destination whose advertisement, we have refrained primarily for educating our villagers first towards the promotion of sustainable tourism. We are in constant talks with the respective Govt department with whose help, YAK aims in creating an eco-valley and organic tourist destination. 
We schedule most of the Team Projects only during the winter session, because of the mass availability of the youth members. Organizing a month and a half long Skilled based winter camps for around 90+ kanji kids for the last 2 years is one of the greatest achievements that YAK boost about. With support from the District Administration and other like-minded NGO's, YAK also organized a Woman Leadership Camp for around 39 girls from across Ladakh.
Youth Association Gya Meru
The education system in Ladakh has been designed to models copied from places ignorant of the local systems, traditions, and custom. The gap between curriculum and reality is widening that students suffer a lot; the books they follow aren't relevant to the culture and environment of Ladakh. This education system is theory oriented than practically oriented in which, rote learning is approvingly crucial. Even though, rote type of education system might help in developing a child's brain. It never allows a student to encouraged to think "out of the box", questioning, thus totally abandoning of creativity. 
Breaking down in traditional mode of living is one of the greatest set back to the cultural identity of Ladakh. The influx of population from the secluded area is increasing highly that Leh is on the verge of exceeding its maximum accommodation capacity leading to urbanization issues. 
In response to overcome these issues, "Youth Association of GyaMeru (YAGM)" was established to introduce the model of sustainable living among villagers of Gya and Meru, address the gap between theoretical and practical education system, and sustainable environment to prolong human existence in these inhabitant villages. We design a few sets of approaches like building leadership skills, developing innovative ideas and focuses on applied and practical aspects of academic models. 
Youth Association Shayok (YAS)
Believes in the saying "United We Stand, Divided We Fall" and advocates alternative education system and co-curricular activities to advance younger generation of Shayok and Durbuk. 
Our activities include confidence building, language skills, ethical values, Buddhism, ice hockey, computer to name a few by conducting workshops, winter and summer camps, tournaments and establishing the library. 
YAS was formed, as there was a great need for the village, most of the parents are illiterate and uneducated in terms of modern education and lack awareness to guide their children. Besides, it was also seen that the youths of the village have to lead and support the villagers in the village's development. 
Zanskar Winter Sports Foundation
Dr. Phunchok Zangpo founded Zanskar Winter Sports Foundation with the support of like-minded youths from Zanskar in the winter of 2019, with the sole aim of promoting winter sports in Zanskar. The organization brings youths of Zanskar to a single platform to exhibit their potential. 
Under the foundation, Zanskar Ice Hockey Foundation was established and built the First Ever Ice Hockey Rink despite unprecedented challenges like carrying equipment via the frozen river trek. The Ice Hockey training program was imparted to over 150 kids and around 150 youths from all over Zanskar. 
In the future, we are looking forward to promoting winter sports, including ice ski and another important winter sports in the Zanskar valley. The foundation looks forward in preparing two under 19 teams of men and women each for a district and state level tournament.