Youth Association Kanji organises '3rd alternative skill-based winter camp' in Kanji
By
Reach Ladakh Correspondent
Kanji, Feb 08, 2020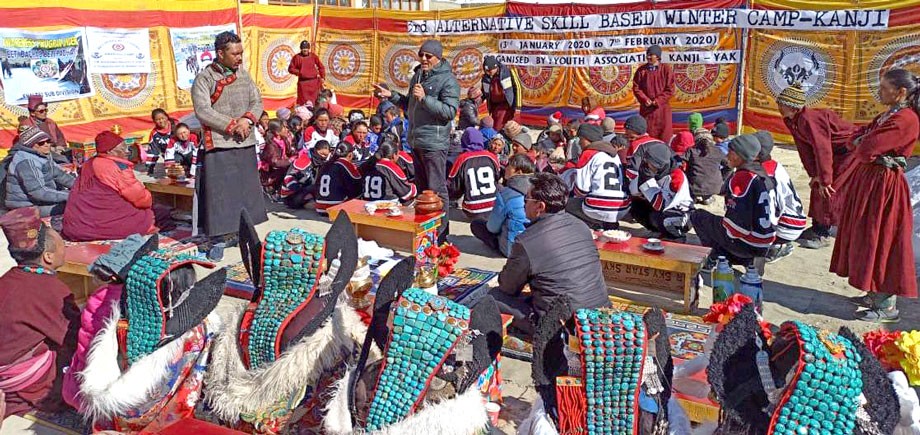 Kanji :
With an Ice Hockey match, Skate dance performances, and other racing drills, 3rd alternative skill-based winter camp organised by Youth Association Kanji (YAK) was concluded on February 7 in Kanji.
The winter camp was carried out free of cost for 35 days focusing on four major sectors such as Games & Sports, Design & Creativity, Tradition & Culture and IT & Technology which was facilitated by volunteer experts and village elders. A total of 103 students were registered. 
Chief Guest of the occasion, Tsering Motup, Sub-Divisional Magistrate Khaltse said, "Organising such skill development skills in today's age has become a crucial need for a student and we should appreciate the members of YAK for sacrificing their time and working for the future of children." 
He also aware villagers about the Government of India scheme 'Beti Bachao, Beti Padhao'.
Rigzin Spalgon, President, Youth Association Kanji said that the Youth Association of Kanji has been organising this alternative skill-based winter camp for the last 3 year, free of cost for the children of Kanji with a belief and vision for a better future, a healthier growth and a united and talented community in the near future.
Stressing on the importance of organising such an alternative skill-based winter camp, he said " In today's 21st-century generation, in addition to the school curriculum, alternative skills have become a need for the proper growth of a kid. Kids should be enjoying what they are learning rather than become mentally stressed over homework burdens and other unwanted pressures." 
Ven. Tashi Nyima, Camp Coordinator thanked all the supporters, monetary donors, villagers and kids for making the camp a successful one.