World Elder Abuse AWorld Elder Abuse Awareness Day observed in Leh
Justice Tashi Rabstan suggests a recreational centre with facilities for the elderly in Leh
By
Stanzin Dasal
Leh, Jun 17, 2019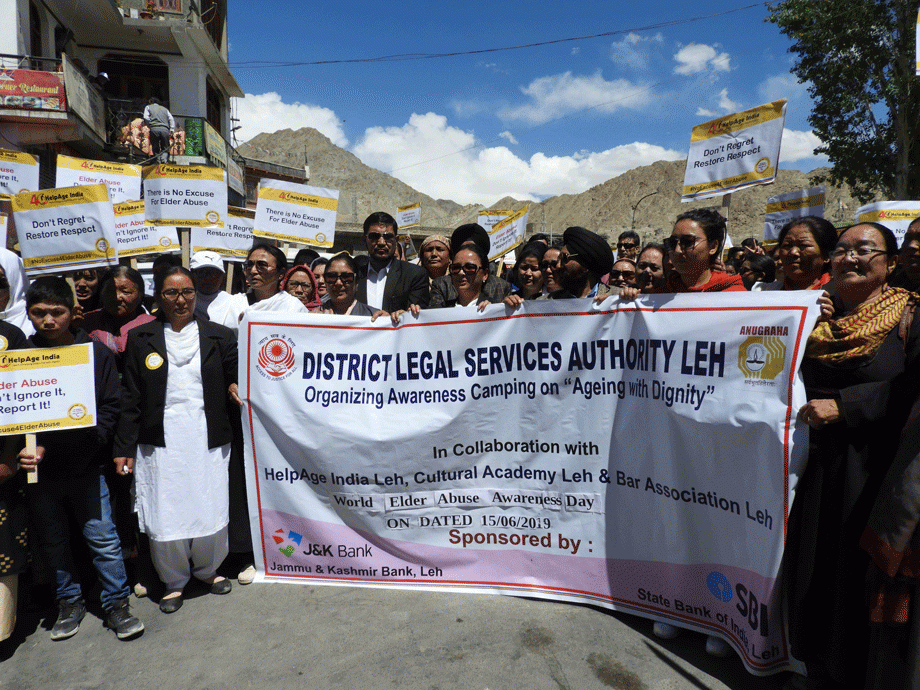 Leh :
To voice against the abuse and suffering faced by the older generation, an awareness campaign themed, 'Ageing with Dignity' on World elder abuse awareness day was organised on June 15 at the main market. 
The awareness campaign was organised by the District Legal Services Authority in collaboration with Help Age India, J&K Art & Cultural Academy Leh and Bar Association Leh.
A walkathon from Leh main gate to the main market was also commenced.
Justice Tashi Rabstan, J&K High Court was the chief guest and Saugat Biswas, Divisional Commissioner, Ladakh Division was the guest of honour.
Talking about the importance of the World elder abuse awareness day, Justice Tashi Rabstan said that the world observes this day to understand and spread awareness against the abuse and suffering inflicted of some older generations. 
He informed about the legal rights of the senior citizen which protects them from any abuse and to support and create a better atmosphere for them in society.
Justice Tashi Rabstan also expressed the need of recreation centres for the elderly people in Leh.  He asked District administration to open one such centre which will have a provision of all the facilities such as health care, cafeteria, library, legal service booth for easy accessibility.  He assured the help from the State Legal Service Authority to start and run the project. 
"The centre will be a special place for all the elderly people where they can share their feelings and interact with each other," he added.
Saugat Biswas, Divisional Commissioner, Ladakh Division said, "We all should change our behaviour, thoughts and beliefs to grow above me and myself and give dignity to each and everybody".
Talking about the roles of Help Age India, Dr. Rohit Kumar said that the organisation is working on the three core issues namely, isolation, poverty and neglect which is being faced by the elderly people in India.  Elderly people are facing isolation because of the generation gap created by us, migration of the young people in search of job and education and trend of nuclear family system. 
He said, "It is an irony that the parents who sacrificed their lives to raise us and make a better person is treated as an economic burden by the same children in times of giving back the same comfort, love, and respect. We all should understand our responsibility towards our parents so they can live with dignity and honour."
R.S. Jasrotia, Principal District and Session Judge Leh, Spalzes Angmo, Secretary District Legal Service Authority, Leh, Padmashree awardee Morup Namgyal, Mohd Shafi Lasu, President Bar Association, Sonam Sopari, Ravia Bano, Representative of All Ladakh Women Association and Thinles Norbu, Representative All Ladakh Student Association, Leh also spoke on the occasion.