Two-day workshop held for quality teaching-learning in Leh
By
Reach Ladakh Correspondent
LEH, Nov 16, 2018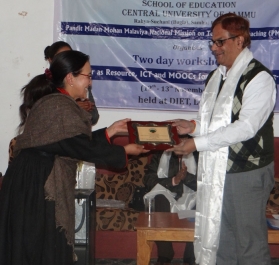 LEH :
A two-day workshop on 'Teacher as Resource, ICT and MOOCs' for quality teaching-learning under Pandit Madan Mohan Malaviya National Mission on Teachers and Teaching was started on November 12 at DIET.
The workshop was organised by School of Education, the Central University of Jammu in collaboration with DIET, Leh.
Prof K Srinivas, Head ICT & Project Management Unit & Chairperson Digital Learning Cell, NIEPA was the chief guest on the occasion.
The resource person of the workshop, Prof K Srinivas presented a presentation on 'Digital Initiatives of GoI in Higher Education-Changing role of a teacher."
He said that the main purpose of the workshop is to empower teachers and get them acquainted with technological enable system in teaching practice.
He stressed teachers to have a correct attitude and the feeling of 'I'm the best faculty' to deliver the best in class. Also, urged them to focus on transparency, accountability, and responsibility as an important component in changing the role of teachers.
He further asked teachers to inculcate all-round development in children based on creativity, innovation, critical thinking, application orientation, and collaborative learning. Also, to create a comfortable learning space for children and make efforts to educate, sensitize own faculty calling it the need of the hour.
Prof. Balia from School of Education, Central University Jammu said that their University has got the mandate under Pandit Madan Mohan Malaviya National Mission on Teachers and Teaching (PMMMNMTT) from Ministry of HRD, GoI to conduct workshops for capacity building of teachers in J&K state district wise. Like other districts, the two days workshop is also conducted in Leh.
He stressed the need to enhance teacher's competence and urged them to be more interactive during the workshop to make it fruitful and productive.
Prof P.K. Biswas from IGNOU who is also the resource person, other professors from the Central University of Jammu, Principal DIET Konchok Angmo and teachers were also present on the occasion.