Two arrested for blue sheep poaching in Nubra
By
Stanzin Dasal
Nubra, Dec 30, 2019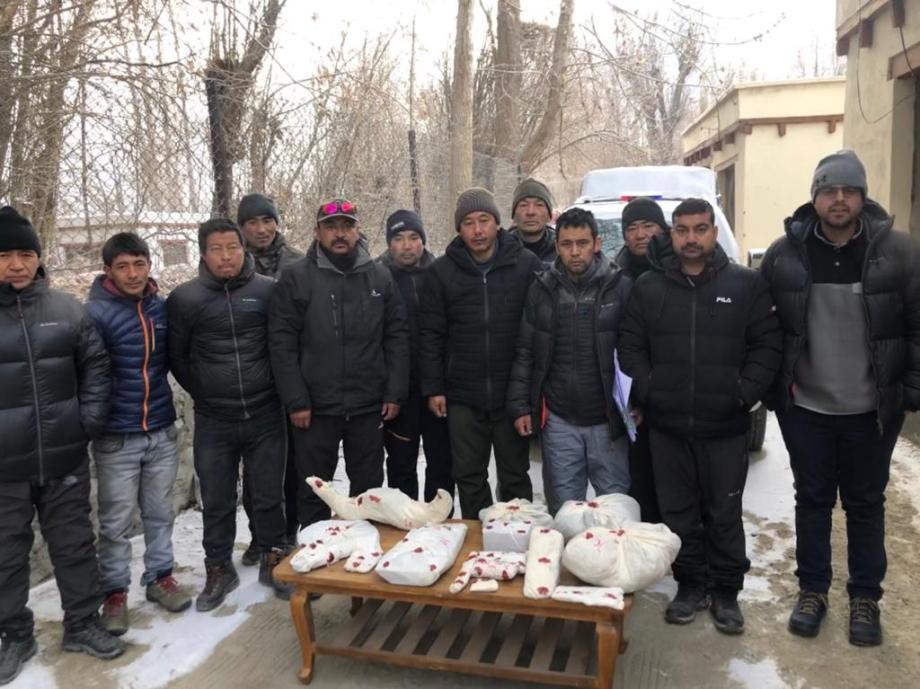 Nubra :
Another case of blue sheep poaching was reported on December 18 between Khardong-Khalsar village in Nubra valley. 
The culprits were identified as Mehdi Ali and Ghulam Hassan from Bogdang. 
One of the accused Mehdi Ali who was accompanying Ghulam Hassan confessed the crime. He is on bond whereas the other culprit, Ghulam Hassan was arrested on December 21.
 
The incident was spotted by Thukjay Gyatso, Forester, Nubra who was on his way from Leh. Seeing him the suspects fled the scene leaving behind the injured blue sheep. 
He reported the incident to the wildlife department and rushed the injured animal for medical help. The blue sheep succumbed to its injury on the way. The post mortem of the animal was conducted on the same day at District Veterinary Hospital Leh. 
 
Pankaj Raina, Wildlife warden said, "We have completed our investigation in time, collected all the evidence and submitted to the court. Now the court trial is left."
 
Sajid Sultan, IFS, Regional Wildlife Warden in a telephonic conversation to Reach Ladakh said, "Section 50 of the Wildlife Protection Act 1972 empowers the wildlife department officers to investigate and book a case. It also gives a power of entry, search, arrest, and detention, following which the team did their job. Preliminary Offence report against the accused has been booked and submitted to the judicial magistrate. All the items are seized and sent to the forensic lab".
 
He said that whenever a poaching case is reported, the first few hours or days are very crucial time to investigate and collect all the evidence. In this blue sheep poaching case, the department responded on time. Prompt reaction is very much important to trace the culprit. 
 
Reiterating the past wildlife crimes and the reason behind less conviction, Sajid Sultan said that in maximum number of cases hunting is done in far off places, away from human habitation which becomes one of the challenges to catch hold of the suspect. Also, the absence of eyewitnesses is one major challenge in wildlife crime cases. 
In conventional crimes, the investigation starts with the registration of the case as a First Information Report (FIR). In wildlife offences, investigation may start with lodging of a seizure/apprehension report or the offence report, in the jurisdictional court, by an authorised officer, who makes such seizure or arrest. The report is known as the Preliminary Offence Report (POR).