Traditional food festival Mamani celebrated with enthusiasm in Kargil
By
Reach Ladakh Correspondent
Kargil, Jan 23, 2020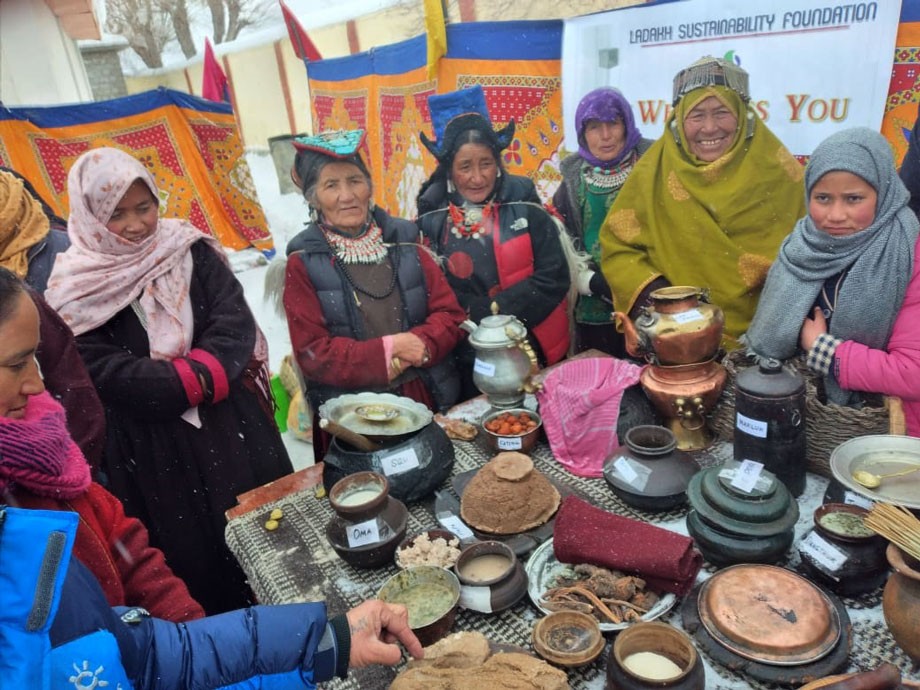 Kargil :
Different traditional food items prepared with local ingredients were presented during the traditional food festival, 'Mamani' on January 21 at Higher Secondary School, Shargole.
The food festival was organised by Himalayan Heritage and Cultural Foundation (HHCF) in collaboration with the Youth Educational and Sports Welfare Society, Wakha Kargil.
Varieties of traditional dishes like Thukpa, Popot (Grain Soup), Hrtsrap Khur (Yeast Bread), Markhur, Azoq (Skinn & Kabchey) (Puri), Poli (Pancakes of Buck Wheat), Curd, Suggoo (Kash or Pachae) and many more were prepared by the people and gathered at the meeting place (Changrah).
Feroz Ahmad, CEC, Hill Council, Kargil said that food festivals enlighten communities about the importance of reviving their traditional food practices and production which proves instrumental in reintegrating value back into traditional food systems and culture.
He underlined the importance of fairs and festivals in promoting and preserving traditions, heritage and ancestral legacy. 
 
Feroz Ahmed further added that the Hill Council is committed for the promotion and preservation of culture and heritage in the district and assured to create separate fund allocation to organise further such activities.
 
As per the traditional calendar, January 21 is the end of the Mamani month which is regarded as the end of the harsher part of the winter. The day is celebrated as a festival with the preparation of traditional dishes. The history of the celebration of this festival in Ladakh dates back to the time before the arrival of Buddhism here. At that time, people used to worship spirits called Lha and the tradition was that whatever dish one prepares at home, they had to bring out a quantity of each item on this day in the name of the Lha. As the tradition still exists with a few modifications, both Buddhist and Muslim communities offer special charity and organize special prayers for their deceased ancestors. 
Shargole area with an equal population of Muslims and Buddhists is also a classic example of time tested religious harmony in the region. The festival is also a special occasion of public gathering and bonding for cultural and communal harmony in society.
 
Later, Feroz Khan presented awards and certificates to the winners of the best presentation and preparation of a variety of food items.
 
Muhammad Ali Chandan, EC Health; Dr Vinod Kumar, SSP Kargil; Dr Sonam Wangchuk, Director HHCF; Dorjay Stakmo, a prominent Ladakhi folk singer and artist, representatives of royal families of the area Amma Shema and Kacho Muhammad, senior citizens and local people in large numbers were present.