Textile Minister, Smirti Irani to visit Leh in August
By
Reach Ladakh Correspondent
Leh, Jul 13, 2019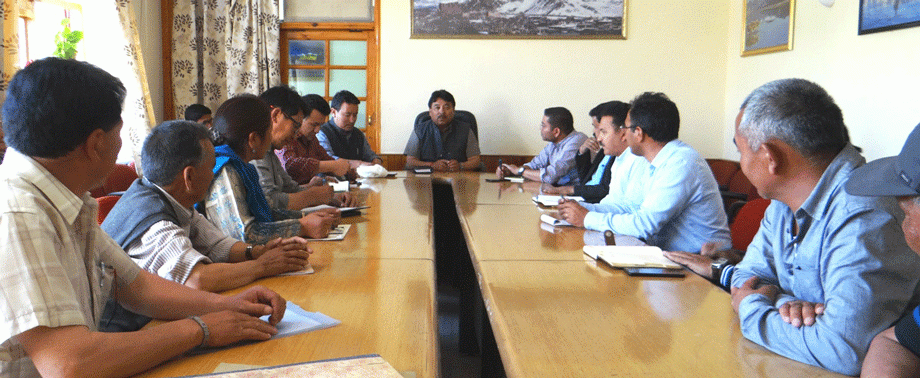 Leh :
A preparatory meeting for the proposed visiting programme of Union Textile Minister Smirti Irani to Leh on August 2 Gyal P Wangyal, CEC convened a meeting with district officers and stakeholders on July 10.
Gyal P Wangyal said that the main purpose of the meeting is to devise a well-thought programme so that a clear picture of the legitimate need of this region mainly in the field of pashmina, handicrafts and handlooms can be focused. He said that textile minister's tour could be more meaningful if she does a field visit to a pastoral area in Changthang. 
He further added that the final touch to the programme by assigning responsibility to different departments shall be given on the confirmation of her tour.
Konchok Stanzin, EC Education and Sheep Husbandry stressed upon taking up important projects such as procurement of ₹ 20 crores Pashmina De-hairing plant, promotional projects of handicrafts and handlooms sectors, funding for skill development of artisan fraternity and value addition of pashmina and wool products.
Dr. Niyas, Sheep Husbandry Officer spoke about various points which are to be taken up with the Minister during her visit to Leh.
Various suggestions including the creation of a pastoral nomadic village at the reception venue in case her visit to Changthang cancels, installation of stalls by Looms of Ladakh, Handicrafts and Handlooms departments, visit of Pashmina de-hairing plant, interaction with nomads, holding of cultural programmes were put forth.
The other purpose of the meeting was to organise a reception to the expedition team of bikers who are coming to Ladakh via Manali with a promotional campaign on pashmina and propagation of its value.