SSA, RMSA teachers demand to clear pending salaries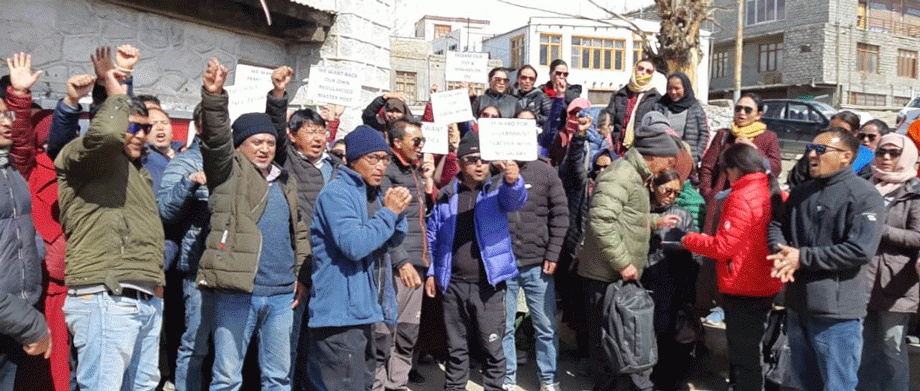 Leh :
Shouting the slogan 'No pay No Work', masters of Rashtriya Madhyamik Shiksha Abhiyan (RMSA) and head teachers of  Sarva Shiksha Abhiyan (SSA) staged a protest for the release of pending salaries on March 5 at Chief Education Office, Leh.
Around 42 Masters of RMSA and 72 Head-teachers of SSA joined the protest. 
Tsewang Phuntsog, SSA Head teachers said, "The problem of salary is from a very long time and they ask us to run the school without even getting our salary paid from the last five to six months. It's difficult to work and manage things without payment of salary on time".
He further added that many have taken loan from the bank and cannot reimburse on time. 
Talking about the excuses and continuous delay, he said, "All this time we were assured that the issue will be sorted but  has not been resolved till date."
When asked about the issue, Jamyang Tsering Namgyal, CEC informed that ₹ 1000 crore has been earmarked by State Government to pay off the pending salary of all the teachers and will be released after getting uploaded on Budget Estimation, Allocation & Monitoring System portal. The reason for the delay is the intense situation and interrupted internet connection in the valley, hopefully, it will be solved within a few days".
He further added, "This problem shouldn't be generalized as it is only with the teachers engaged with the RMSA."
Tashi Dolma, Joint Director Education Ladakh said that the issue is caused because of the procedural delay which will be sorted within a day or two. 
The protestors threatened the authorities that they would not resume their duties until the salary cases are resolved.