Shia Muslims observe Muharram- ul -Haram in Leh
Over 600 youths register their names for blood donation
By
Stanzin Dasal
Leh, Sep 11, 2019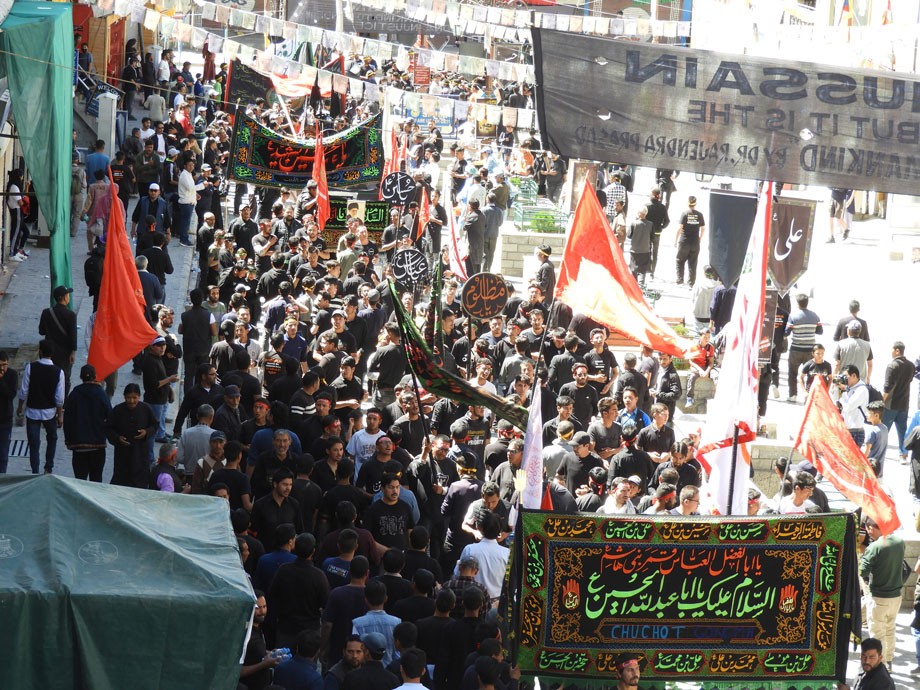 Leh :
Commemorating the supreme sacrifice of Imam Hussain (A.S) and his companion for mankind in the battle of Karbala, Muharram-ul-Haram observed with solemnity on September 10 in Leh.
Thousands of Shia Muslim beating their chest and reciting lamentation joined the mourning procession. Also, following the teaching of Hazrat Imam Hussain to serve mankind, Alamdar Health Service, Leh organised a blood donation camp at the main market.
Alamdar Health service has been organising the blood donation camp every year. They started the blood donation camp in the year 2000 with the help of Health department Leh. On September 10, 2019, over 600 youths registered their name for the blood donation. 
Tauseef Hussain, Chairman, Alamdar Health Service informed that this year nearly 70 youths have donated blood to the needy. He said that the health service has successfully conducted the blood donation camp from 19 years and over 1500 youths have donated blood till now.
He urged the administration to address the demand for office space so they can carry out the work more effectively and efficiently. 
Sachin Kumar Vaishya, DC, Leh applauded the communal harmony and bonding of the people in the district. He said that the cordial relationship among the people of different faiths in the district is a very strong factor to work effectively and efficiently. 
Regarding the demand for office space for Alamdar Health service, he said that he will discuss and look into the matter.
Sheikh Zain ul Abidin, Majlis e ulama said that Imam Hussein stood for the truth and humanity and we must understand the value and practice in everyday life. He said that good deed and action are the core principle of all religion. 
"By donating blood you are keeping the humanity alive and such a noble practice spreads the message of Imam Hussain rightly", he added.
PT Kunzang, President LBA also appreciated the work of Alamdar Health Service and endorse their demand for an office space.
Imam Hussein, the grandson of Prophet Muhammad and other 72 of his companions were martyred at Karbala in 680 AD after fighting for justice against armies of Yazid.