Saugat Biswas, Divisional Commissioner Ladakh reviews ongoing developmental work progress in Leh
By
Reach Ladakh Correspondent
Leh, Mar 30, 2019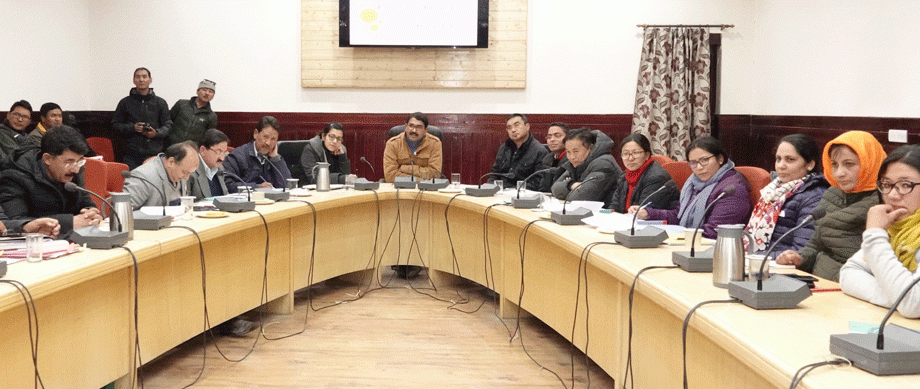 Leh :
The progress of ongoing works, welfare schemes and achievements of various departments in Leh district was reviewed by Saugat Biswas, Divisional Commissioner Ladakh on March 27.
Special emphasis was made on the work progress of Education, Health, Agriculture, Horticulture, Handicrafts and PWD department. 
Saugat Biswas urged upon the head of the departments to have a thorough knowledge of all the schemes implemented by their department and office functions. He directed to adopt a strict follow-up mechanism for timely completion.
Detail information from each district officer about the respective departments, roles, priorities, functions, ongoing activities and progress of different State and Centre government-run public welfare schemes were carried out. The officers were directed to prepare a short video or slide presentation on the major departmental achievements and stressed professionalism to ensure an efficient work culture in government offices.
Avny Lavasa, DC, Leh gave a detailed presentation on the present state of languishing projects, Ayushman Bharat and PM-KISAN. 
Informing about the sub-division and department wise projects under languishing, she said that the languishing projects were taken up in three phases. The total number of projects submitted is 452, out of which 76 projects were approved with a sanctioned cost of ₹193.57 crore.  A total of 223 projects remain pending and 153 projects were rejected. 
Under Ayushman Bharat, Avny Lavasa informed that for Leh district total number of beneficiaries registered as per PM letter is 17,060.  The number of beneficiaries registered so far is 11,305 and percentage achieved is 66%.  Under PM-KISAN, total farms operating families including small and marginal farmers in Leh district is 21,542 out of which 6,003 is the tentative numbers of eligible farmers under the scheme. 
Saugat Biswas took stock of the present status of each project and directed the officers to ensure timely completion considering the limited working days and tough geographic location of the region. 
He strongly stressed upon the officers to ensure effective and timely tendering process assuring strict monitoring and follow up with concern authorities. The officers were instructed to ensure transparency and credibility in providing timely benefits to the actual beneficiaries at the grassroots level through Central and State-run public welfare schemes. 
Moses Kunzang, Additional District Development Commissioner, Leh, Sachin Kumar, ADC, Leh and all HoDs were present.