Road safety awareness held in Kargil
By
Reach Ladakh Correspondent
Kargil, Oct 09, 2019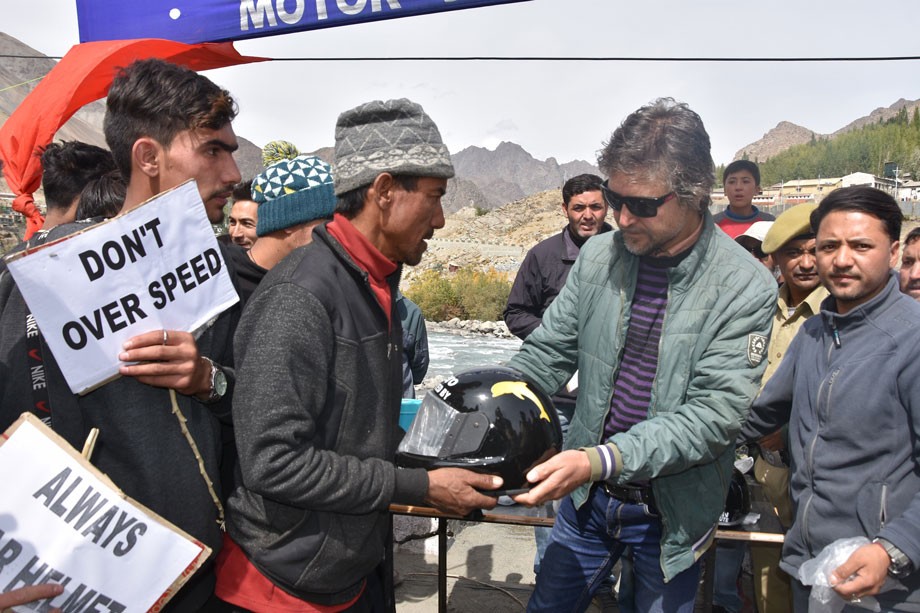 Kargil :
New Motor Vehicle Act, its rules and regulations was aware during the traffic awareness programme on October 7 in Kargil.
The awareness programme was organised by Motor Vehicle Department (MVD) Kargil with Police Department Kargil, Traffic Police Kargil and Nun Kun Driving Institute Kargil.
Officials of Motor Vehicle Department, Traffic Police, volunteers and students imparted the law to the drivers and daily road users.
Baseer ul Haq Choudhary, DC Kargil highlighted the need to follow proper traffic etiquettes and observance of traffic rules to ensure sound traffic regulation.
He said that efforts are on to raise traffic awareness and about New Traffic Act among masses through various media. 
Dr. Vinod Kumar, Superintendent of Police Kargil; Khadim Hussain, Assistant Regional Transport Officer (ARTO) Kargil;  Inspector Muhammad Nissar, Traffic Police Kargil besides other concerned officers were present on the occasion
People were urged to observe traffic rules in letter and spirit besides wearing seatbelts and helmets for a safe drive. Two wheeler riders without helmet were penalized to engage as road awareness assistants for two hours.
Baseer ul Haq Choudhary instructed ARTO Kargil to continue with the process of traffic awareness as and when required by involving more and more volunteers and students.  He said that such initiative will help in reducing road accidents and other traffic related issues.
Helmets sponsored by Nun Kun Driving Institute were distributed for free among the riders of two wheelers not wearing helmets.