Regional AWWA president, Northern Command, interacts with Veer Naris in Ladakh
By
Reach Ladakh Correspondent
LEH, Oct 30, 2018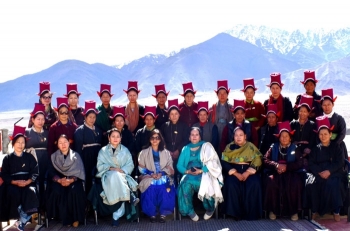 LEH :
Kalpana Singh, Regional President AWWA, Northern Command with the Veer Naris of the Ladakh Scouts Regiment on October 21.
Kins of these veer naris attained martyrdom during operation VIJAY and operation MEGHDOOT.
Kalpana Singh enquired about the welfare of the Veer Naris and expressed her happiness and satisfaction over various welfare schemes availed by them. She also appreciated their resolve to become self-dependent and ensure proper upbringing of their children.
Acknowledging the invaluable contribution and supreme sacrifice of the martyred soldiers, she assured the veer naris unstinted support of the organisation towards their welfare.
The veer naris will be visiting Bodh Gaya as a part of Capacity Building Tour organised by Fire & Fury Crops under Operation Sadbhavna.