Pulse Polio Vaccination drive conducted successfully in Leh
By
Reach Ladakh Correspondent
Leh, Jan 20, 2020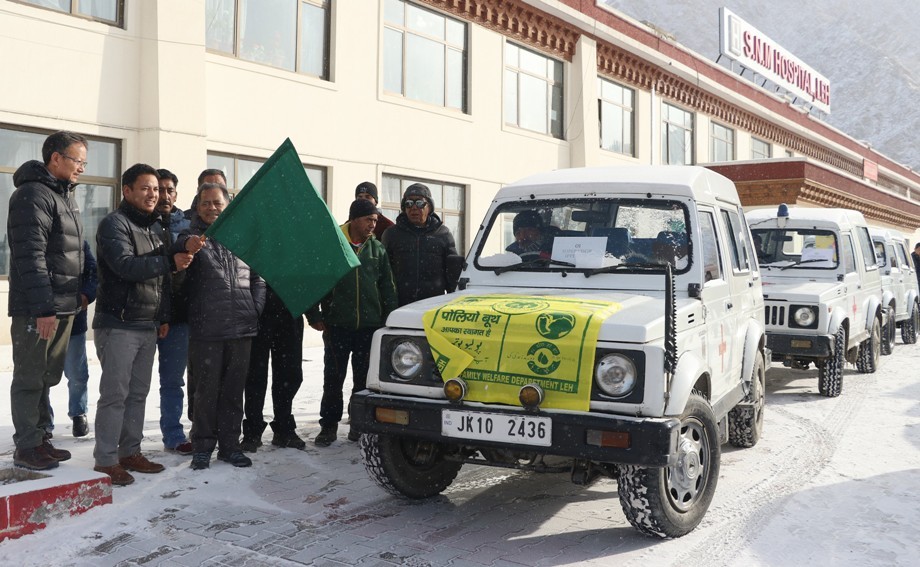 Leh :
Marking the launch of Pulse Polio Immunization campaign in Leh district, Tsering Sandup, Deputy Chairman, Hill Council, Leh administered two drops of polio to a newborn baby at SNM, Hospital Leh on January 19. 
Tsering Sandup informed that the target population of 0-5 years of age child is 10,635 including 9,650 locals and 985 non-locals in Leh district. The department has set up 378 booths including 8 Paramilitary PPI Booths with 1, 512 team members deployed along with 76 supervisors and 13 mobile booths that are in function from 8 am to 4 pm on the polio day at Anganwadi centres and Medical sub-centres, Govt. Hospital. 
To ensure every single child to be vaccinated, three days door to door vaccination will also be conducted from January 19.
 
He urged the parents to play a responsive role in making the campaign successful with 100% vaccination results and to ensure a healthy society.
A mobile team dedicated to the pulse polio vaccination campaign from SNM, Hospital, Leh was also flagged off.
Dr. Phuntsog Angchuk, Director, Health service Ladakh; Dr. Motup Dorjey, CMO, Leh; Dr. Tsering Angchuk, Deputy Medical Superintendent SNM Hospital, Leh; Doctors and health workers were also present.