Protest rally demanding UT status for Leh with legislative power
By
Rigzin Wangmo
LEH, Nov 29, 2018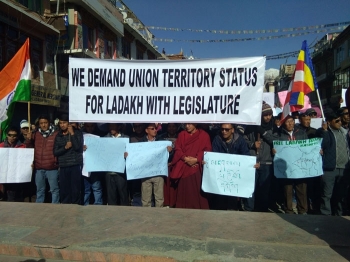 LEH :
Demanding Union Territory status with legislature, all the business establishment remained shut down for half day on November 26 in Leh.
Thousands of people joined the peaceful protest called by Ladakh Buddhist Association.
Expressing unhappiness over the government for neglecting the long pending Union Territory demand for Ladakh, the rally started from Chowkhang Vihara and culminated at Pologround.
Tsewang Thinles, President, LBA said, "It was very important to conduct the rally because of the bad condition in the entire state. We hope that our demands will be fulfilled during Governor's rule, as several other demands have been fulfilled during the Governor's rule in the past".
He further said, "UT status for Ladakh is a long pending demand which has been brought forward from time to time. The central government should also consider Ladakh whenever a decision is announced for the state. People of Ladakh have always been faithful towards the nation but sadly, the issues of Ladakhi's are hardly taken seriously."
He appealed people of Ladakh to stay strong and united.
Konchok Stak, President, LBA Youth Wing said, "Ladakh has been and is suffering due to the Kashmir issues. Students of Ladakh are struggling to get a university which must be considered as a priority. The state government discriminates Ladakhi employees and the business sector of Ladakh is suffering. It is the responsibility of the Indian government to safeguard Ladakh and its people."
PT Kunzang, Vice President LBA, Rinchen Angmo, President, Women Wing, LBA and Ven. Shedup Chamba, President, Ladakh Gonpa Association also spoke on the occasion.
Along with Union Territory status with legislature, people also reiterated the demand to include Bhoti language in the 8th Schedule of the Indian Constitution, Central University, and law to safeguard the business interest of the people of Ladakh and establishment of police range in Ladakh region.
A copy of the memorandum was submitted to the Governor through Avny Lavasa, Deputy Commissioner Leh.