Prahlad Singh Patel attends meeting of Culture and Tourism sector in Leh
Assures to consider all the demands and look for possible ways to address
By
Reach Ladakh Correspondent
Leh, Sep 06, 2019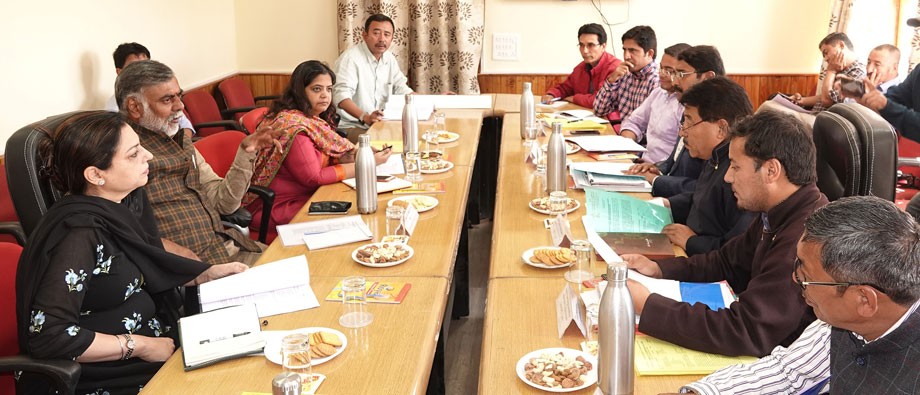 Leh :
Hill Council Leh put forth important demands under Culture and Tourism sectors for both Leh and Kargil during a meeting with Prahlad Singh Patel, MOS, Culture, and Tourism, (GoI) on September 4 at Council Secretariat.
Gyal P Wangyal welcomed Prahlad Singh Patel and the entire team on three days visit to Leh. He expressed gratitude to the Minister for sparing his valuable time and interacting with all the stakeholders.
Tsering Sandup, Deputy Chairman, LAHDC, Leh gave a presentation on the demands of Hill Council, Leh including demands of Kargil district.
Under Culture and Tourism sectors various demands including cultural museum in Leh, Cultural Centre equipped with a library, auditorium, conference hall, film theatre, art gallery, art studios, science centre, observatory cum planetarium, renovation/restoration of heritage sites of cultural and tourist's interest and celebration of festivals in both Leh and Kargil were put forth.
Also, in the tourism sector demand for an Amphitheatre, Rock Art site development, wayside tourist care centre, Mountaineering Institute, and skill development was highlighted.
Tsering Sandup also requested to grant funds to celebrate Ladakh Festival at a grand scale, completion of Trans Himalayan Centre, small museums in different regions to promote silk route, nomadic and Aryan cultures, consider Heli tourism and projects under Swadesh Darshan.  
Prahlad Singh Patel informed about newly launched Tourist Facilitator Programme (TFP) by the centre government. He said that the aim of this online programme is to promote tourism with the involvement of local youth providing them with online certified basic course and advance courses in Heritage and Adventure tourism and spoken languages.
He urged Hill Council to encourage the local youth with a qualification of 10+2 to apply for these courses for which the registration has already started.
The Administrative officers of Leh and Kargil were asked to submit drafts and proposal of the demands at the earliest possible.
Prahlad Singh suggested starting a tourist care centre on one route initially to see the usage and success provided with all kind of facilities within one premise. Also, he assured to reconsider Swadesh Darshan and urged the officers to review the projects and submit proposals on a priority basis.
He also mentioned about introducing B&B services in Ladakh with the aim to promote homestay and also to take up the matter of Heli tourism involving private investors.
The minister informed about adopting Heritage scheme and urged Hill Council and Administration to plan long term, sustainable and locally viable projects. He assured to consider all the demands and look for possible ways to address it under his capacity.
Saugat Biswas, Divisional Commissioner Ladakh, appraised the Minister about the concept of demand made for the tourist care centre. He said that the idea is to have such centre after every 80 km on the tourist route with toilet, café, oxygen bar, waste collection, water refill, first aid facility, souvenirs shop and information counter.
He also requested to consider tariff subsidy on heli services in Leh considering the difficult geographic terrain and easy made evacuation process for tourists during emergencies.
Baseer ul Haq Chaudhary, DC Kargil represented demands of Kargil district including exploring tourism promotion in Kargil, to provide training under TFP to local candidates outside Kargil who are mostly out of Kargil for higher studies, restoration of Shagkar Chikten Fort, provide processing and marketing for apricots grown in bulk in Kargil, to promote organic produce of Batalik and Balti Heritage street in Kargil.