Police observe Commemoration Day in Leh
By
Reach Ladakh Correspondent
CHOGLAMSAR, Oct 30, 2018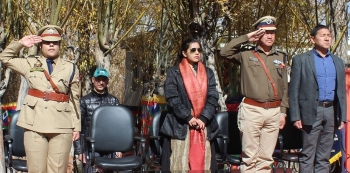 CHOGLAMSAR :
Paying rich tribute to the martyrs, Police Commemoration Day was observed on October 21 at Police Line, Choglamsar. Sargun Shukla, SSP, Leh read out the name of all the martyred policemen at a general parade.
Avny Lavasa, DC was the chief guest on the occasion offered wreath at the Martyr's memorial. Tsering Gyalpo, Commandant, 25th IRP, Sonam Dechen, SP, CID, Sonam Dorjey, Dy. SP, DAR, and other Police Officers and Jawans were present.
Avny Lavasa said that the day is an important occasion to show solidarity with the families of martyrs policemen and pay tribute to the sacrifices.
She said, "Generally we celebrate the valor and bravery of our army, but we also need to give equal recognition and acknowledgment to the contributions of our police and paramilitary forces".
She further added that a common citizen can also contribute a lot to the national development in a day-to-day life with good actions.
Talking about the Police Commemoration Day, Sargun Shukla said that the day is observed all over the country every year to remember and salute those gallant police personnel who had achieved martyrdom at Hot Spring in Eastern Ladakh in 1959 while defending the motherland and also those who gave their lives providing security to the people. The other purpose of observing the day is to take the pledge and uphold similar strength and courage they exhibited and serve the nation and its people with a similar character.
The kith and kins of martyr's policemen ASI Sonam Dorjey, SGCT Gaulam Abbas, SI Stanzin Norboo, and CT Shabir Hussain were presented with a token of respect and encouragement. The students of Nari Niketan and Bal Ashram were also invited as guests.