Planning meeting of Block Development Council election held in Kargil
By
Reach Ladakh Correspondent
Leh, Sep 06, 2019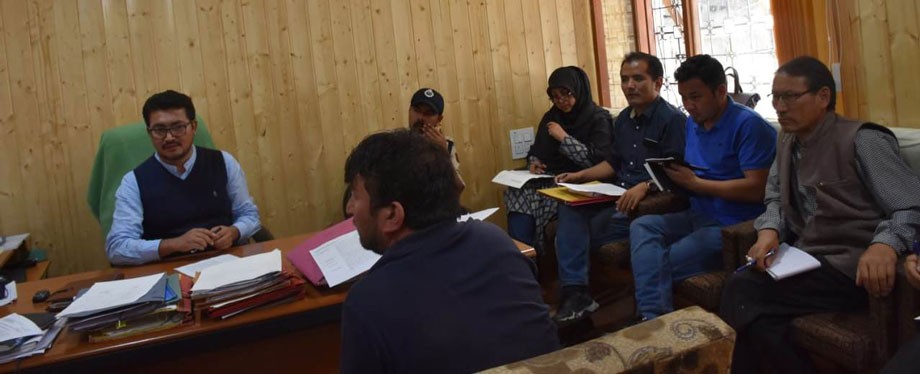 Leh :
A meeting regarding preparations for the conduct of Block Development Council (BDC) election in the district was convened by Sonam Chosjor, Additional Deputy Commissioner, Kargil on September 4.
Khalid Amin, Additional Superintendent of Police, Kargil;  Nargis Banoo, Deputy District Election Officer, Kargil;  Shabir Hussain, District Panchayat Officer, Kargil;  Block Development Officers, Election Naib Tehsildar Kargil besides other concerned officers of Civil and Police administration were present.
Discussions on different aspects including preparation and publishing of the draft and final electoral rolls  in Urdu and English versions, proposal for appointment of Returning Officers (ROs) and Assistant Returning Officers (AROs), security, transport and communication plan, establishment of Polling Stations, Counting Centres and Election Control Room,  deployment of magistrates and polling personnel, preparation of election materials and storage of election materials after polling and counting besides other related arrangements  were held.
It was informed that the Chairpersons of the BDCs would be elected by the Electoral College comprising Sarpanches and Panches of the Halqa Panchayats falling within the 15 blocks of the district.
Sonam Chosjor said that the DPO Kargil and concerned BDOs who would be the Electoral Registration Officer (ERO) and Assistant Electoral Registration Officers (AEROs) shall prepare the block wise draft electoral rolls in Urdu as well as English versions. Disposal of the claims and objections would publish the final copies in both languages.
He also instructed the BDOs to identify suitable locations in their respective blocks preferably office of the BDO concerned for setting up of polling stations besides ensuring the provision of Assured Minimum Facilities (AMF) at all the polling stations by carrying out necessary measures in this regard well in time. 
Regarding communication plan, he stressed Police administration and BSNL officers to work in close coordination for seamless communication especially in the far off blocks of the district.
He also asked the officers of Police administration to ensure adequate security in all blocks and to prepare a comprehensive security plan. ARTO Kargil was asked to prepare a detailed transport plan. 
The officers were further directed to submit the communication, security and transport plans to the office of the District Panchayat Election Officer Kargil within 2 days. 
Sonam Chosjor further directed officers to take all necessary and timely measures. Also to work with utmost dedication and coordination so as to ensure free, fair and ethical conduct of BDC elections in the district.