Panchayat elections records 64.1 percent voter turnout
99 female employees deployed on election duty at 29 polling stations for the third phase
By
Reach Ladakh Correspondent
LEH, Nov 29, 2018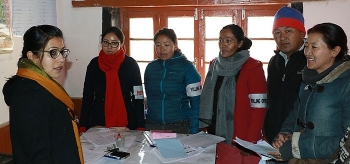 LEH :
The third and final phase of Panchayat election ended successfully with the polling in Chushot, Thiksey, Leh, Nimmo, and Saspol block on November 24.
The total voter turnout was around 64.1% including Chuchot 69.1%, Thiksey 63.9%, Leh 56.4%, Nimmo 62.6% and Saspol 65.9%.
For the first time, the entire polling team was comprised of female employees. 99 female employees were deployed on election duty at 29 polling stations for the third phase of panchayat election.
District Panchayat Election Officer/DC, Leh Avny Lavasa inspected polling stations in Palam-Pharka, Stok, and Chuchot and interacted with the polling staff and the candidates.
Out of the 95 panchayat halqas in Leh district, 39 Sarpanch was elected uncontested and 56 seats of sarpanch elections were conducted in different blocks except for Korzok due to non-polling.
Also, out of the 687 panch wards in the district, 642 panches were elected uncontested. Elections were conducted for 23 panch seats and 22 panch ward remained vacant.