One-day conference of sculptors and painters held in Leh
By
Rigzin Wangmo
LEH, Oct 30, 2018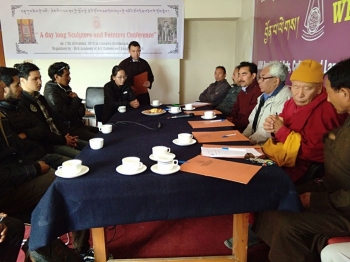 LEH :
A day-long sculptors and painters conference was organised by Jammu and Kashmir Academy of Art, Culture and Languages Leh on October 17 at Lotsava Auditorium, Culture Academy.
Contemporary, traditional painters and sculptors were invited to discuss various ways and means to promote traditional art forms.
Tsewang Paljor, Special Officer, Cultural Academy said, "A person who knows any art form is great. The older generation has done wonders in art. The people who are into contemporary art have the essence of the Ladakhi culture. This will not only benefit Ladakh but the person itself will be known for the work in this particular field. This will only be possible when two generation artists will contribute together".
Chimat Rigzin, Traditional Sculptor said, "Parents should keep a close look at their children when they draw certain images on the wall. This will help the child to grow in the field of their interest instead of going in other fields with no interest."
Mipham Otsal, Director LTO, Leh said, "The artist has to have the philosophy in whatever they do. The subject of an artist is never ending process as it is all about creativity. The artists should have an association to discuss every detail. Our demand in society is huge and we should be known for our work in our place."
Padmashree awardee Murup Namgail, Gen Thupstan Paldan, Mohammad Shafi Painter and modern sculptures and painters also spoke on the occasion.