NISR, Leh, will give new identity to Ladakh: CEC
By
Reach Ladakh Correspondent
Leh, Dec 24, 2019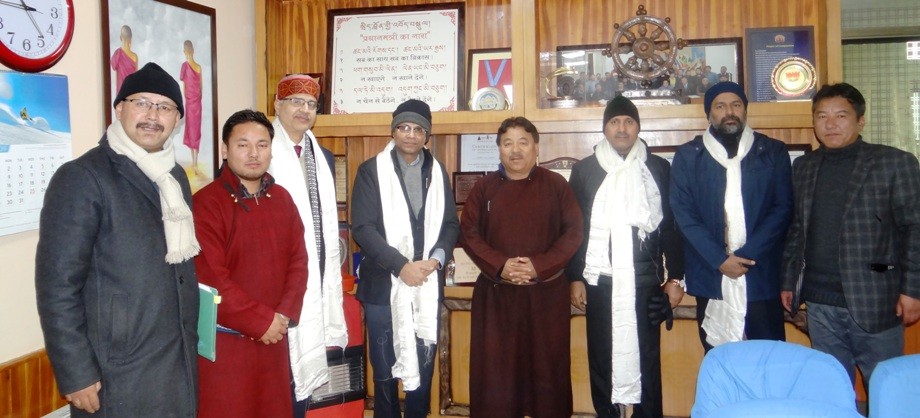 Leh :
To discuss the establishment of a recently approved National Institute for Sowa-Rigpa in Leh, a team of Ministry of AYUSH led by Vaidya Rajesh Kotecha, Secretary Ministry of AYUSH met with Gyal.P Wangyal, CEC, Hill Council, Leh and Tsering Sangdup, Deputy Chairman on December 23 at Council Secretariat.
The Union Cabinet recently approved the establishment of the National Institute for Sowa-Rigpa (NISR) in Leh as an autonomous organization under the Ministry of AYUSH at an estimated cost of ₹47.25Crore.
Gyal.P Wangyal said that the people of Ladakh are highly thankful to the Government led by Prime Minister Narendra Modi for approving National Institute for Sowa-Rigpa in Leh. He said that in future this prestigious project will give a new identity to Ladakh.
Wangyal said that the traditional Amchi system of the Himalayan region will revive the invaluable treasure of Ladakh. He committed to extending support from the Hill Council for the establishment of the project in Leh.
Discussion held on the allocation of suitable land for NISR nearby Leh, creation of separate directorate of AYUSH in Leh and merger of traditional Amchi in the new system. 
Dr. Padma Gurmet, NRIS Leh; P.K Pathak, Additional Secretary AYUSH; Ranjeet Kumar, Joint Secretary AYUSH and K.S Dhimau, DG, CCRAS were present.