'Next Of Kin' Rally for Veer Naris & Veterans held in Nimmo
By
Reach Ladakh Correspondent
Leh, Apr 15, 2019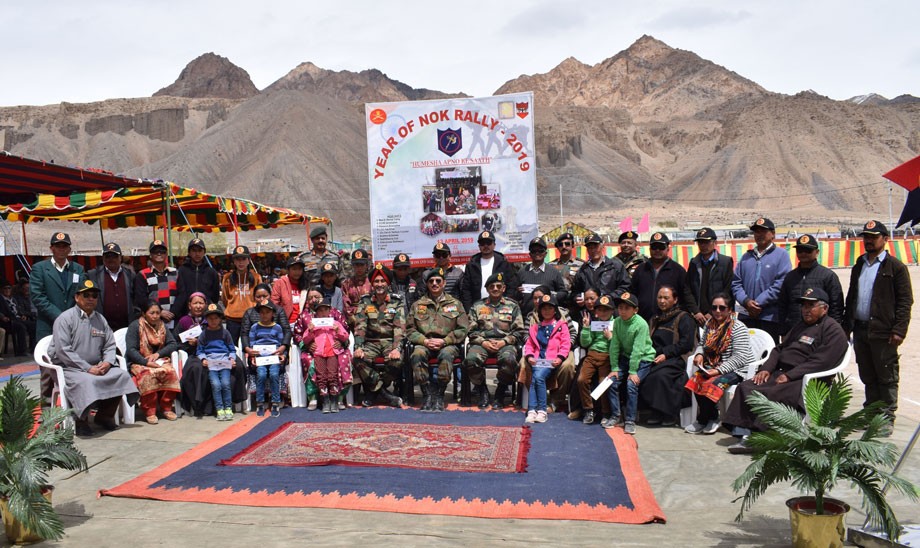 Leh :
Marking the 20th anniversary of Kargil war, a 'Year of Next of Kin (NOK)' rally for Veer Naris & Veterans was organised by Parashu Brigade, Fire & Fury Corps at Nimmo Military Station on April 13.
Hundreds of Veer Naris, Veterans and NOKs from all over Ladakh region were present.
Veer Naris, Veterans and NOKs were given important information pertaining to Ex-Serviceman updates and Ex-servicemen Contributory Health Scheme (ECHS) and Army Welfare Education Society (AWES) welfare schemes provided for them by the Central/ State Government, various investment schemes and possible loan proposals towards house building, business establishment and vehicle purchases. Representatives from the Defence Pension Disbursing Office (DPDO) were also present, to resolve pension-related anomalies.
Zonal Army Wives Welfare Association (AWWA) under the guidance of Ina Joshi, President, AWWA, Fire & Fury Zonal along with the civil administration, also conducted a Medical Camp. A total of 154 Veer Naris, Veterans and their dependents benefitted from the medical cum dental camp, where three Medical Officers from the Army Medical Corps, a dentist a with Mobile Dental Van and two specialist doctors from the civil administration provided health advice and medicines.
Army Band display, Polo Match, Archery competition was also organised.
Fire & Fury Corps reiterated the commitment of the formation in particular and the Indian Army in general, towards the well-being of retired Army personnel and their dependents, in the year which the Indian Army has designated as 'Year of the NOK'.