NC, Leh criticize Governor's decision to turn JK Bank into a Public Sector
By
Stanzin Dasal
LEH, Dec 03, 2018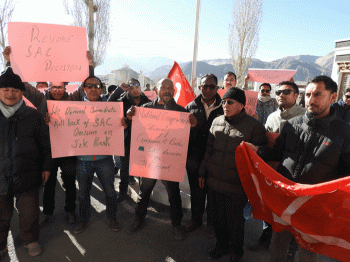 LEH :
With the decision of Satya Pal Malik, Governor J&K in the State Administrative Council meeting to turn the J&K Bank Ltd into a public-sector bank, National Conference Leh criticized and took out a march to DC Office on December 1.
The party demanded to roll back the decision of State Administrative Council to turn J&K Bank Limited into Public Sector Undertaking (PSU).
Chering Angchuk, President, National Conference Leh said, "J&K Bank is one of the reputed and a responsible institution which has rendered it service positively in the state since from last 70 years. It has played a very important role in promoting local business and industry, contributing immensely to the state economy".
He further added that the decision in the meeting to convert it into the Public Sector Undertaking will adversely affect the market perception of the bank.
Citing the example of bad performance and experiences of the other Public Sector Undertaking such as JKTDC, State Financial Corporation (SFC), SRTC, JK Minerals, JK Cement etc., he said that the decision of taking away functional autonomy of the J&K Bank will have far-reaching consequences.
He appealed the Governor to revoke the decision for the larger interest of the people of J&K state.
A copy of the memorandum was submitted to the Governor Satya Pal Malik through Moses Kunzang ADC, Leh.