MLC, Leh donates ambulance to PHC, Sakti
By
Reach Ladakh Correspondent
Leh, Jun 07, 2019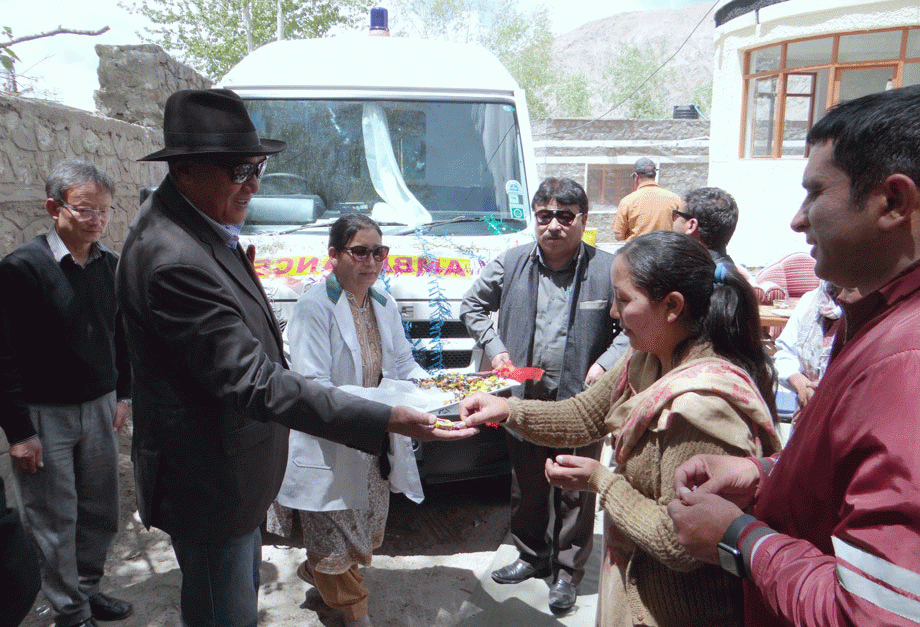 Leh :
A fully equipped ambulance was donated by Chering Dorjey, MLC Leh to Primary Health Centre, Sakti from MLC area fund. 
 
He handed over the ambulance to PHC Sakti on May 7 in presence of Deputy Chairman, Hill Council, Leh Gyal P. Wangyal and Executive Councilor for Health Tsering Sandup.
Chering Dorjey said that the new ambulance for PHC Sakti will not only prove beneficial for people but will play a crucial role in evacuating patients from Changla-pass in case of emergency.  
"A fully equipped ambulance at PHC Sakti was urgently needed from a very long time as this area is one of the busiest tourist routes in Ladakh beneath the famous Changla-pass", added Dorjey .
He hoped that this ambulance will be of great use for tourists as well as for entire Sakti area. At the same time, Dorjey appealed doctors of PHC Sakti and people of Sakti for proper use and maintenance of this ambulance. 
Talking about the improving health facilities in Leh district, Chering Dorjey said that Leh district is better in many ways as compared to other districts of the state and hoped that the demand of medical college for Leh and the upgradation of PHC Khaltse and Nyoma to sub-district hospital will be fulfilled in near future.  
Gyal P. Wangyal, Deputy Chairman who is also the area Councillor thanked MLC on behalf of entire Sakti people for sanctioning ₹ 11.00 lac out of his MLC fund last year. He said that the ambulance was purchased last year but due to the closure of Srinagar- Leh road the ambulance was stationed at Srinagar. 
Talking about other facilities needed at PHC Sakti, Gyal Wangyal said that a complete analyzer machine for various blood tests will also be equipped in the laboratory of PHC Sakti soon.  
"To keep the records of patients and for other office use, a set of computer will be provided by J&K Bank under CSR for PHC Sakti", added Wangyal. 
He directed Dr. Lal Didi, MO PHC Sakti to ensure proper maintenance of this new ambulance and cautioned that misuse of the ambulance will not be tolerated. 
Highlighting the improving medical facilities in terms of infrastructure, equipment and services in Leh district, Tsering Sandup, Executive Councilor for Health said that SNM hospital Leh is one of the best district hospitals in the state.
He further said that with the efforts of Hill Council Leh, Airport Authority of India has agreed to sanction Rs. 12 Crore for procurement of MRI Machine under their CSR scheme for SNM Hospital Leh. 
Earlier, CMO, Leh Dr. Motup Dorjey also addressed the function and congratulated the people of Sakti area.