Meeting on tuberculosis held in Ladakh
Umang Narula instructs Health Department to submit action plan to eliminates TB
By
Reach Ladakh Correspondent
Leh, Jan 10, 2020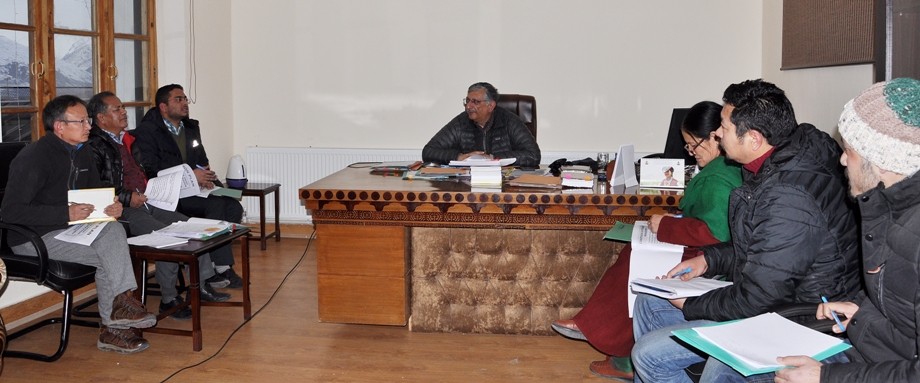 Leh :
As per the Govt. of India initiative 'TB Harega Desh Jeetega Campaign' a meeting was convened by Umang Narula, Advisor to Lt. Governor with the Health Department Ladakh on January 8 at Civil Secretariat. 
 
Health Services Ladakh briefed present scenario and achievement in the field of T.B. elimination. The figure achieved under TB Notification/Registration (PUBLIC) was higher than the target set for the year 2019. Further, it was informed that under Nikshay Poshan Yojna (NPY) ₹500 per month is transferred to the account of diagnosed TB beneficiaries for nutrition purposes. Under the Information, Education and Communication (I&EC) campaign active case finding of high-risk groups was undertaken in all residential hostels, old age homes, nunneries and district jail.
The name of the programme has been changed from the Revised National TB Control Programme (RNTCP) to National TB Elimination Programme (NTEP). 
 
Phuntsog Angchuk, Director of Health Service presented an abstract of the Action Plan for the above initiative with the assurance of proactive work/awareness campaign in the year ahead for TB elimination and identify high risk/latent TB cases.
 
Umang Narula instructed the Health Department to submit the action plan for the elimination of TB at the earliest. Also, he directed inter-ministerial collaboration especially with school children and ICDS, active application of social media for spreading advocacy communication and social mobilization for effective dissemination on the subject of TB elimination. 
 
Sachin Kumar Vaishya, DC, Leh; Dr. Motup Dorje, CMO, Leh; Dr. Norzin Angmo District TB Officer, Leh were present. Besides, Sonam Chosjor, ADC, Kargil and Dr. Ibrahim Khan, CMO, Kargil attended the meeting through video conferencing.