Meeting held to boost Tourism, Industries sector in Kargil
By
Reach Ladakh Correspondent
Kargil, Sep 12, 2019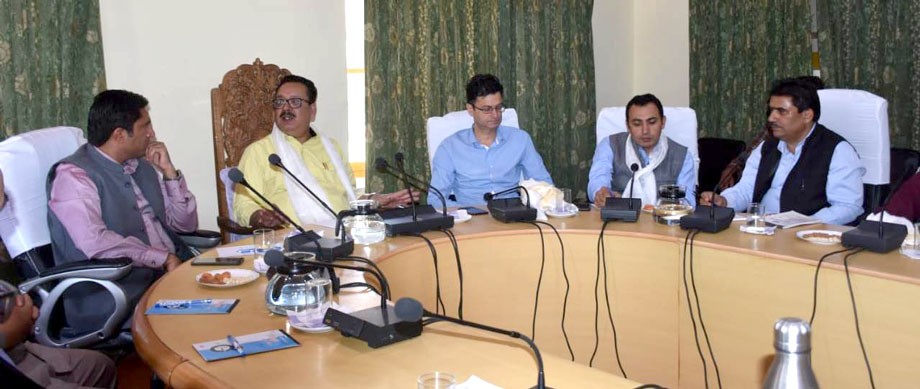 Kargil :
To give impetus to tourism and industry sector in Kargil district Navin Kumar Choudhary, Principal Secretary, Tourism and Industries convened a meeting on September 6, at Tourist Facilitation Centre.
Navin Kumar Choudhary said that Government is endeavoring to give impetus to the Tourism and Industry sector in Kargil district and concrete measures are underway for the same which includes the creation of tourism infrastructure, publicity campaigns, and provision of incentives to entrepreneurs for the development of industries.
He assured to address the genuine concerns of hoteliers and owners of industrial units.
Baseer ul Haq Choudhary, DC Kargil was directed to organise workshops for people associated with tourism, trade, and industry to understand their needs and developmental requirements which would be projected during the J&K Investors Summit. Also, he assured to send a team from the Indian Institute of Hotel Management to conduct training and skill development classes for the local youths in the hotel industry. The training will be held annually for a batch of 40-50 candidates.
Navin Choudhary informed that the incentives for hoteliers are now available through the Industries department. He directed the concerned officers to clear all pending incentive cases within the stipulated time frame.
To impart awareness about Industries schemes for young entrepreneurs and hoteliers, he directed the concerned officers to organise an orientation program within a week's time.
Also, to project the tourism potential of Kargil at the national and international level a fame tour of renowned travel journalists, photographers and travel writers will be organised to various tourist destinations in the district in near future, he added.
He also instructed the concerned officers to outsource all assets of Kargil Development Agency (KDA) for 15 years. Also, asked them to prepare a list of assets and submit the proposal for necessary approval in a week's time.
The Principal Secretary also asked the Director Tourism Kashmir to prepare a wildlife tourism brochure for Kargil.
Various issues including operationalization of air services to Kargil, promotion of brown bear sightseeing in areas like Drass and Sankoo by holding roadshows, brochures, and films, institution of young entrepreneur awards, conservation, listing and cataloging of artifacts and several other related issues also came up for a thorough discussion during the meeting.