Mahila Kisan Diwas celebrated in Nyoma
By
Reach Ladakh Correspondent
CHANGTHANG, Oct 30, 2018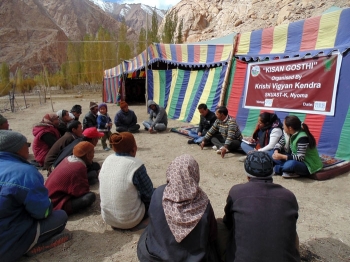 CHANGTHANG :
In order to increase the active participation of women in agriculture and allied sectors, Mahila Kisan Diwas was celebrated on October 15 at Nyoma.
The day was organised by Krishi Vigyan Kendra, Nyoma in which women farmers and entrepreneurs of Mudh participated.
Dr. Kunzes Angmo, subject matter specialist, rangeland/ecology said that women contribute in various aspects of agriculture including sowing, planting, manuring, plant protection, harvesting, weeding, and storage. They are the pillars of society in Ladakh and are the decision makers as well as farm workers in a family.
"They can play a managerial role in the conservation of the rangeland by using traditional knowledge," she added
Dr. Anwar Hussain, subject matter specialist, food technology spoke about the nutritional requirement for farm women to maintain the overall health of themselves as well as their family members.
He stressed farm women to have a small kitchen garden having all possible varieties of vegetable.
Dr. Sonam Spaldon, subject matter specialist, vegetable science stressed on taking vegetable seedling as the major economic commodity and said that protected structures are boon to the communities living in these high altitude regions.
Meanwhile, on Kisan Goshti day, a scientific team of the same center headed by Dr. Maheswar Singh, Programme Coordinator/Head, KVK Nyoma interacted with the farmers of Liktse village.
A discussion session was held in which the farmers raised queries about farming and put up their demands for the upcoming farming season.