Mahabodhi International Meditation Centre launches J&K 1st Pyramid meditation hall
By
Reach Ladakh Correspondent
Kargil, Jun 24, 2019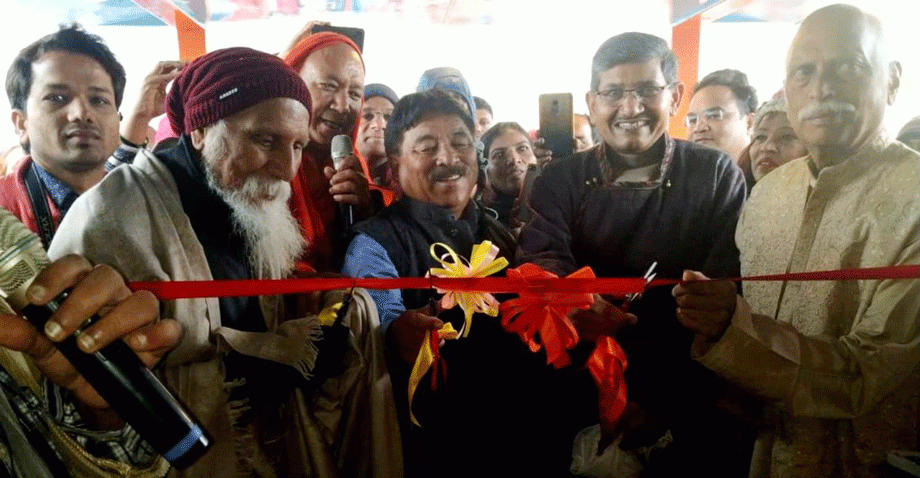 Kargil :
A Pyramid Meditation Hall 'Shangri-La Pyramid Meditation Temple' was inaugurated by Brahmarshi Pitamaha Patriji, Founder, Worldwide Pyramid Spiritual Societies Movement and Bhikkhu Sanghasena on June 21 at Mahabodhi International Meditation Centre. 
Gyal P Wangyal, Deputy Chairman, Hill Council, Leh and Maj. Gen. Yash Mor SM, GOC Leh-Sub area were the guests of honour. 
Recognising the sincere and outstanding contribution in promoting Maha-Karuna, Vegetarianism and Science of Meditation globally through Pyramid Spiritual Societies Movement, Mahabodhi conferred the Global Peace Award to Brahmarshi Patriji. DLN Shastri and Nunna Subrhamaya Kishore were awarded with Lifetime Achievement Awards for their outstanding contribution to serve humanity. 
A MoU between Mahabodhi International Meditation Centre and Pyramid Spiritual Societies Movement was also signed.
Brahmarshi Patriji expressed his gratitude to Bhikkhu Sanghasena for his tireless work and selfless nature benefiting humankind in general and the people of Ladakh in particular. 
Talking about the essence of non-violence, vegetarianism and spiritual science, Patriji urged upon to embark on the journey of meditation and indulge into extensive spiritual book reading. 
Talking about the Shangri-La Pyramid Meditation Temple, Bhikkhu Sanghasena said that it will open more ways to serve people affirming the message of MIMC-meditation in action. 
"People from all walks of life and any part of the world can practice meditation here and we assure that this pyramid meditation hall will be brought to its optimum usage", he added.
S. Ranjan, Vice-chairman Indian Federation of Spiritual Scientists and Managing Trustee of Pyramid Valley, Banglore, GOC Leh-Sub Area Maj. Gen. Yash Mor SM,  eminent scholars Ven. Khanpo Konchok Phandey and Ven. Khanpo Konchok Rigzin also spoke on the occasion.