Leh observes 30th death anniversary of Nawang, Dorjay, Stobdan
Rich tributes paid to the three brave hearts who sacrificed their lives demanding UT status for Ladakh
By
Stanzin Dasal
Leh, Aug 29, 2019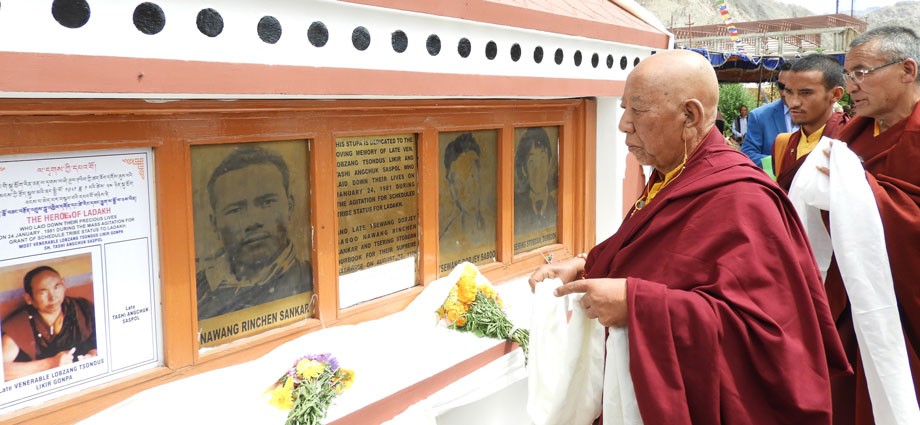 Leh :
Rich tribute was paid to the three brave hearts 'Nawang Dorjay Stobdan' on their 30th death anniversary at Martyrs Memorial park, Skyatsags on August 27.
The entire business establishment remained closed for half day. Also, a peaceful procession was carried out from Chowkhang Vihara till Martyrs Memorial park.
On August 27, 1989, Nawang Rinchen from Sankar, Tsering Stobdan from Durbuk, and Tsewang Dorjey from Saboo were martyred during the Union Territory agitation. The day marks an important day for the people of Ladakh to remember them and their sacrifices today as the long-pending demands of UT status got fulfilled by the Government on August 5, 2019.
His Eminence Togdan Rinpoche, Former Minister also expressed the importance of the day and reiterate the struggle for UT status in Ladakh those days. Remembering the contribution of great leaders of Ladakh including Gyalsras Kushok Bakula Rinpoche, Late Sonam Wangyal, Thupstan Chhewang, and many others, His Eminence stressed on recalling the sacrifice made by them.
The torchbearer of the UT demand movement, Thupstan Chhewang, Former Member of Parliament reiterated the contribution of martyrs who laid down their life for a greater cause.
Talking about the importance of the day he said, "27 August is not just like any other day, it is a historic day for the people of Ladakh which needs to be recalled by each one of us. The supreme sacrifices made by the three brave souls, Nawang Rinchen, Tsering Stobdan, and Tsewang Dorjey cannot be forgotten".
He recalled the UT demand agitation of 1989 and sacrifice of Ven. Lobzang Tsondus from Likir and Tashi Angchuk from Saspol who laid down their lives on January 24, 1981, during Schedule Tribe (ST) status demand agitation.
Thupstan Chhewang stressed to extend all the possible support and respect to the families of the deceased.
He said, "The grant of Union Territory status for Ladakh on August 5, 2019, keeping the Hill Council intact is a very positive thing. We need to accept it wholeheartedly and work unitedly and collaboratively to implement it in a better and stronger way."
Nawang Rigzin Jora, Former MLA reiterated the contribution of Thupstan Chhewang during the struggle of Union Territory status and along with all the Rinpoches, monks and people of Ladakh.
He stressed on proposing the name of Thupstan Chhewang as a first Lieutenant Governor of Ladakh to the government.
Gyal P Wangyal, CEC, LAHDC, Leh;Chering Dorjay, Former MLC; P T Kunzang, President, LBA; Ashraf Ali Barcha, President Anjuman Imamia; Deachen Chamga, President, Christian Community; Dr. Abdul Qayum, President, Anjuman Moin ul Islam and many other leaders also spoke on the occasion.