Leh celebrates Ladakh rPal rNam Duston-2018 with great zeal
Dr. Tsering Norboo, Physician, conferred with Ladakh rPal rNam Duston-2018 award
By
Rigzin Wangmo
LEH, Oct 30, 2018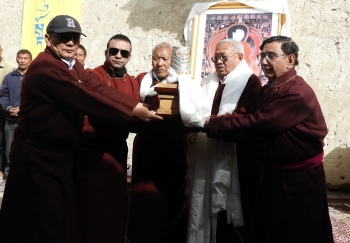 LEH :
Commemorating Lotsava Rinchen Zangpo, the 3rd Ladakh rPal rNam Duston-2018 was celebrated with traditional fervour on October 19 at Nyerma Thiksey. The programmes of the annual festival started at Leh palace following Thiksey Nyerma later.
Dorjey Motup said, "The annual festival is being celebrated from three consecutive years. The aim of the festival is to honour great personalities of the region who in their respective fields have contributed to the welfare of the people and developing Ladakh. This year the festival is celebrated to pay tribute to Lotsava Rinchen Zangpo and his immense contributions in the rich culture, religion, art, script, and language of glorious Ladakh."
He further appreciated and expressed gratitude to all the villagers of Thiksey, Nang, Rambirpur, and Shey for their cooperation in making the event successful.
He later expressed his gratitude over successful conduct of this years' programme and appreciated the villagers of Thiksay, Nang, Ranbirpur, and Shey for their cooperation.
After visiting the Lhakhang at Thiksey Nyarma, Dorjay Motup inaugurated the photo exhibition of the great works of Lotsawa Rinchen Zangpo.
Dr. Tsering Norboo, Physician Specialist conferred with Ladakh rPal rNam Duston-2018 award in recognition of his enormous service in the field of medicine.
Citing the example of doctor Norboo, Dorjay Motup asked the young generation to work hard and contribute to the development of the region.
Dr. Tsering Norboo said, "I feel fortunate for considering me on this auspicious day. I am highly motivated with the support of the people of Ladakh and dedicate my award to you all. Your support and faith in me made me do my work more easily and confidently. I will work the people of Ladakh till my last breath."
Tsering Wangdus, Executive Councillor Agriculture and Ven. Thupstan Paldan also spoke on the occasion.
Ladakh rPal rNam Duston, 2018 was also celebrated in Alchi, Sumdha and Mangyu villages. Even after 1000 years, the imprints of the great works of Lama Lotsawa Rinchen Zangpo are still well intact in these villages. The villagers especially the elders enthusiastically celebrated this event as a mark of their achievement in preserving the remarkable works of Lotsawa Rinchen Zangpo for future generations.
As a mark of gratitude, the young people of Alchi, Sumdha and Mangyu villages honoured elderly people with the white scarf (Khataks) for their best efforts in preserving these treasuries of culture and religion.
Religious masters highlighted the life and contributions of Lotsawa Rinchen Zangpo and stressed for the preservation and conservation of the glorious works.