Leh celebrates International day for Yoga with zest and zeal
By
Stanzin Dasal
Leh, Jun 22, 2019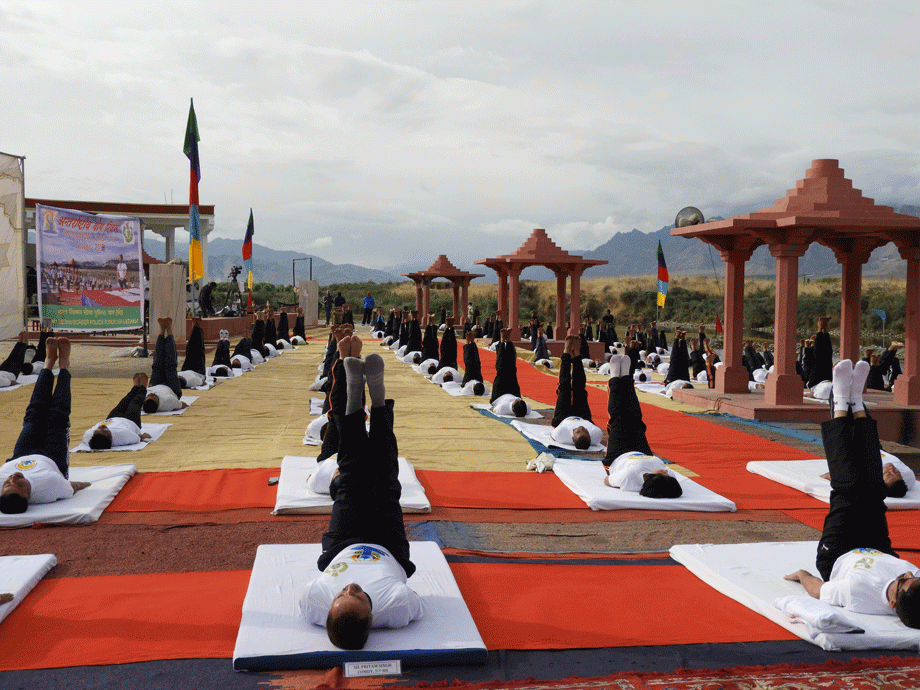 Leh :
Marking the 5th International day for Yoga, people around the Leh town along with the rest other parts of the world did yoga with great enthusiasm on June 21.
Different organisation including, District Jail Leh, Mahabodhi meditation centre, ITBP, Ladakh Scouts, Sports Authority of India along with Lamdon Model Senior Secondary School, Leh, Nehru Yuva Kendra and many other arranged a yoga session. 
Talking about the importance of Yoga, Ven. Bhikshu Sanghasena said, "Yoga and meditation are not associated with any religion or beliefs. It is a need of the hour for every human being for holistic development".
"I appeal everyone to practice yoga and meditation for a healthy and peaceful life", he added.
Avny Lavasa, DC, Leh who was the chief guest at Lamdon school said that yoga is essential to excel in academics and sports as it helps in developing concentration, mental focus and to learn proper body postures to live a fit and healthy life. 
She urged upon everyone to spare at least half an hour in a day to practice yoga or play some sport for a healthy mind and body. 
In District Jail, Jail inmates, CRPF personnel and Jail staff participated.   
Superintendent Jail Leh stressed upon the participant and inmates to make Yoga a part of life. He said that exercising with full mental and physical conscious will have more benefits of Yoga.
International day for yoga or World Yoga day is celebrated beyond the boundaries with equal enthusiasm. Yoga is an ancient physical, mental and spiritual practice that originated in India. The word 'yoga' derives from Sanskrit, which means to join or unite, symbolising the union of body and consciousness.