Ladakh Food Processing Summit held in Leh
By
Tsering Dolkar
Leh, Jan 18, 2020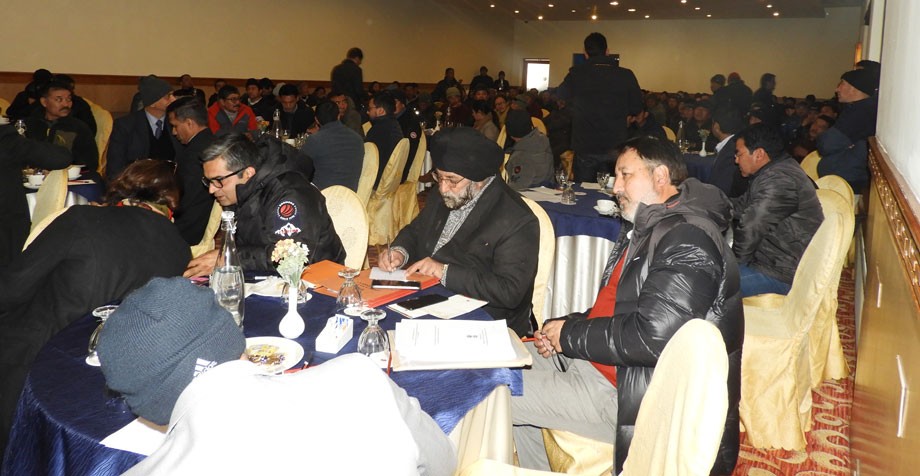 Leh :
To build food processing sector and to recommend strategies on food processing and agriculture activities, the first-ever Food Processing Summit themed 'Building Partnerships for Inclusive Growth in Food Processing Sector' was held on January 16 in Leh.
It was organised by the Department of Industries & Commerce, Ladakh with the help of Ministry of Food Processing Industries, GoI and Invest India, the national investment promotion and facilitation agency.
Reema Prakash, Joint Secretary, Ministry of Food Processing Industries, GoI who was the chief guest explained the difference of role between the Ministry of agriculture and Ministry of Food Processing Industries. She elucidated that the Ministry of Food Processing Industries ensures value addition to the food products once they are processed and assured that the ministry is all set to promote both districts of Ladakh in food processing. She also informed that a similar workshop in Kargil will be organised in coming days.
Reema Prakash also informed about the organic festival for women entrepreneurs to be held in Delhi in February and invited women entrepreneurs from Ladakh.
Dorjay Wangchuk, Executive Manager of EDI Ladakh and department of Industries and Commerce informed that the summit is to develop the forward linkages of our products to reach outside Ladakh and to identify the backward linkages especially the small regions and their needs of technical inputs, infrastructure, machinery, equipment or training for skills development so that our agriculture sector will also develop. He also informed that there are around 175 participants of farmers, entrepreneurs, youths and others. 
Saugat Biswas, Secretary Industries & Commerce, Ladakh explained about the added value of food production, expert guidance and support from the Government of India in order to boost the food processing industry in Ladakh. 
Moses Kunzang, Director of Industries & Commerce, Ladakh gave a detailed presentation on the issues and requirements of industries in Ladakh and explained the importance of sea-buckthorn for Ladakh's economy.
Dr. Nitin Kumar from National Institute of Food Technology and Entrepreneurship Management (NIFTEM) and Dr. Sandeep Janghu expert from Indian Institute of Food Processing Technology (IIFPT) presented their presentation. Invest India presented the benefits of various schemes under Ministry of Food Processing Industries.
Baseer-Ul-Haq Chaudhary, Deputy Commissioner, Kargil and many producers from Kargil also joined the summit through video conferencing and they requested the MoFPI team to visit Kargil to check the opportunity of organic products.
An open house session was also followed after the presentations, where the participants from Leh and Kargil cleared their doubts.