Ladakh demands full-fledged university
Kashmir has 6 universities and Jammu 7, but none in Ladakh, says President, ALSAJ
By
Rigzin Wangmo
LEH, Nov 02, 2018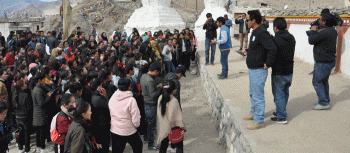 LEH :
Demanding a full-fledged university for the Ladakh region, a large number of students under the banner Student Organisation of Unified Ladakh (SOUL) carried a peaceful protest on 1 November in Leh.
All the business establishment remained shut down for a half-day.
The colleges of Ladakh are affiliated to Kashmir University and its inadvertent work culture amidst problems in the valley hugely affects the student's life. Student leaders of different student organisations of Ladakh expressed concern at the deplorable condition of higher education in Ladakh.
Rigzin Dorjay, President, SOUL said, "It's sad that the district administration did not support us to protest peacefully but anyway we have managed to raise our demands. We appeal the governor of the state to consider our demand for having a full-fledged university. Hope he will intervene in establishing a university in Ladakh."
Lobzang Nurboo, President, All Ladakh Student Association Jammu (ALSAJ) said, "More than 15,000 students are pursuing their higher education in Jammu. The students are compelled to go outside because there are many loopholes in the system of higher education in Ladakh. And while studying outside, they face end number of problems. Also, at the time of elections more than 40,000 students do not get the chance for voting".
"Kashmir has 6 universities and 7 in Jammu but none in Ladakh. We seek local government intervention and support for the establishment of a university in Ladakh," he added.
Stanzin Nurboo, Student Executive said, "90 percent of the youth today are studying outside and incur huge expenses.
He further stressed that Ladakh has unique topography and the students have ample scope to research. Knowledge can be enhanced if Ladakh has the university where the students are taught about relevant topics related to the place.
A copy of the memorandum was submitted to the Governor, J&K through Deputy Commissioner Leh office.