Ladakh commemorates Sonam Wangyal's 20th death anniversary
A book on his life will be released on his 21st death anniversary, says Sonam Wangchuk, SECMOL
By
Rigzin Wangmo
LEH, Nov 16, 2018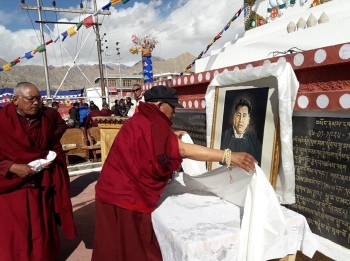 LEH :
Rich tribute was paid to Late Sonam Wangyal, Former Minister on his 20th death anniversary on November 10 at Sonam Wangyal Memorial park.
Late Sonam Wangyal was a dynamic leader who served as MLC in 1957, in the year 1967 and 1972 he was elected as MLA and worked for the welfare and betterment of the Ladakh region. He also struggled and fought for the ST status. His selfless dedication and commitment to work for the betterment of the society along with Gyalsras Bakula Rinpoche is an inspiration to the people of Ladakh.
His Eminence Togdan Rinpoche, chief guest appraised the contributions of Gyalras Bakula Rinpoche and Late Sonam Wangyal who worked tirelessly for the welfare of people.
He said, "Sonam Wangyal has contributed a lot to the society and served against all differences for the upliftment of the society".
Togdan Rinpoche appreciated the Sonam Wangyal Memorial Committee for commemorating his work and dedication.
Expressing gratitude to the past leaders who worked tirelessly and selflessly for Ladakh, Jamyang Tsering Namgyal said, "The development we see today is all because of the tremendous inputs of the Sonam Wangyal and all other leaders. They worked under adverse challenges selflessly for the people of Ladakh. Sonam Wangyal is one among the prominent leaders of our region who worked day in and out to develop the region under the guidance of Gyalras Bakula Rinpoche".
He further stressed upon the responsibility of the young generation to be inspired and follow the path of such leaders.
Pending demands including naming outdoor stadium near Spituk and link road from Skalzangling to Agling in memory of Sonam Wangyal and recommendation for State or Kabir award to him was put forward to CEC, LAHDC by Sonam Wangyal Memorial Committee.
Sonam Wangchuk, SECMOL informed that a book on Sonam Wangyal's life will be released on the 21st Death Anniversary.
He also invited the interested person to write about people and leaders who have worked for the Ladakh.
PT Kunzang, Vice President, LBA, Dechan Chamga, President, Christian Community, Ashraf Ali Barcha, President, Anjuman Imamia, Ven. Shadup Chamba, President, All Ladakh Gompa Association also spoke on the occasion.
Dorjey Motup, Former CEC, LAHDC; Stanzin Thinlas, AOC Air Force Leh Air Commodore;Dr. Ishey Namgyal, President, MC Leh; monks of Spituk monastery, other prominent guests including religious and political heads were present.