Ladakh celebrates 73rd Independence Day with great enthusiasm and fervour
By
Stanzin Dasal
Leh, Aug 16, 2019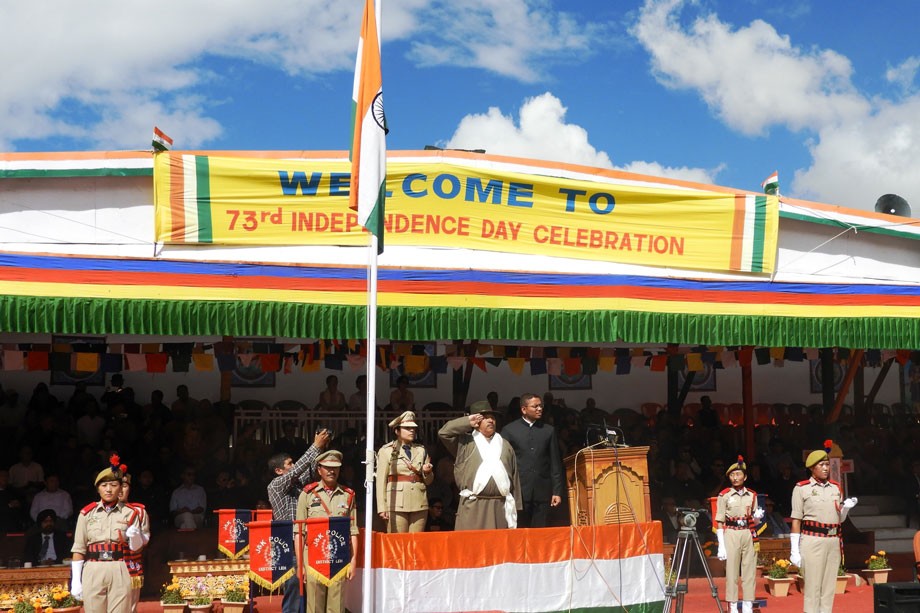 Leh :
73rd Independence Day marked a special day for Ladakh as people celebrated the first Independence Day after getting UT with great patriotism and enthusiasm on August 15 at Pologround, Leh.
Gyal P Wangyal, Chairman and Chief Executive Councilor, LAHDC, Leh unfurled the national flag.
 
Gyal P Wangyal recalled the freedom fighters like Mahatma Gandhi and Subash Chandra Bose who fought for Free India. He also highlighted the sacrifices and effort of great leaders of Ladakh such as Kushok Bakula Rinpoche, Thupstan Chhewang, Baba Rasool, Rigzin Namgyal Kalon, Lama Lobzang, Hussain Thiksey Pa, Ghulam Mohd Barcha and many others who raised voice and stood for Union Territory status for Ladakh.
 
He said, "We should also remember the sacrifices of Nawang Dorjay Stobdan, the brave souls who laid down their lives for the UT status. It is very important for us to know and get inspired by such great leaders who fought for better Ladakh."
 
The kins of three martyrs Nawang, Dorjey and Stobdan were also honoured on the occasion.
 
Talking about the Union Territory status, Gyal P Wangyal said, "Along with the celebration of this historic moment, there are also many doubts and confusion among the people. I on behalf of the council assure everyone that we will clear all the doubts."
 
He informed that Hill Council will form a committee soon who will look into various aspects of  UT status and Hill council functioning for better development. He urged people for further advice and suggestion in front of the committee.
 
He appealed people to stand united and work collaboratively for a new developed Ladakh.
 
Gyal P Wangyal assured that the Hill Council will strive and work for the development of the region.
 
Also, he informed the public about the achievements of LAHDC through various departmental projects. Gyal mentioned about major projects underway and completed under PMGSY, NABARD, CRF, AMRUT, PMDP, and other departmental achievements.
 
He informed people about the functioning of the dialysis machine at SNM, Hospital, 100% vaccination of Measles-Rubella and the project of opening 6 new health centers in Leh district under Ayushman Bharat.
 
Talking about sports, he informed about the commitment made by MOS Sports Kiren Rijiju to give recognition to Ice Hockey and providing funds for the overall development of sports infrastructure in Leh.
 
Electrification of the whole district under Saubhagya scheme, solar power plant projects, major road, and bridges including Singay Lalok, Shatse daksna, project Tsangda, Mission Organic Development Initiative of Ladakh and many other achievements and plans were also highlighted.
 
March Past of the contingents of paramilitary forces, police, school children, band parties and cultural programmes were also performed.
 
Different people for their commendable service to society were also honoured and felicitated on the occasion.