Kashmir University VC all set to solve higher education issues of Ladakh
Assures personal intervention for smooth running of courses and to improve higher education system i
By
Reach Ladakh Correspondent
LEH, Nov 02, 2018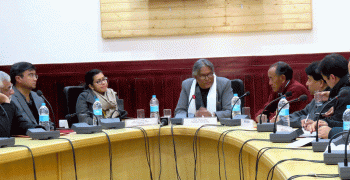 LEH :
The Vice-Chancellor, Kashmir University Prof. Talat Ahmad announced to delink the colleges of Leh and Kargil district from Kashmir University.Sub-offices in each district will be open to conduct examination from paper setting to result. Also, introduction of integrated 5 years courses (3 years Graduation 2 years Masters) in Earth science, English and Tourism on the pattern of Indian Centre of Science and Research was also announced.
New Controller of Examination has been appointed who will ensure the effective functioning of the sub-offices.
The decision was taken during the meeting of Prof Talat Ahmad with the education stakeholders on November 1 in at DC Conference Hall, Leh.
He said that he is committed to develop the higher education system of the Ladakh region and making it the education hub of north India.
Highlighting the scope of English, Tourism and Earth science including Geology, Geography and Environment sciences courses in Ladakh he announces to start a five year integrated courses.
The students pursuing the courses will have the provision to pursue only the bachelor degree and complete their master outside Ladakh. Also, selective master courses relevant to the area will be developed depending on new positions for which he urged Hill Council and local authority to follow up with higher authorities at state level.
He informed that the courses have been formulated and shall be implemented soon. Reiterating the MOU signed with the Sonam Wangchuk, SECMOL he said that the university will be focused on imparting the theoretical knowledge and the practical will be given by HIAL.
To run the satellite campus of Kashmir University Leh properly he urged for the coordination and cooperation from local authorities. Highlighting the unique charm and scope in the region, he said that with the proper functional campus students from other parts of India and abroad will also be attracted. He asked for bus facilities to help in commuting the students to the campus.
He assured personal intervention for smooth running of the courses and classes and to improve the higher education sector in Ladakh.
Deskyong Namgyal, Principal, EJM College submitted a proposed academic calendar for the running classes and colleges of Ladakh region. He demanded separate academic calendar for Ladakh, to start new bachelor courses in Leh, early installation of OMR machine, to invite staff members from Leh colleges to attend syndicate meeting of University for framing syllabus, non-payment of examination remuneration to college staff and staff engaged at university sub-office and IT section.