Kargil protested against Sumbla rape case 
By
Reach Ladakh Correspondent
Kargil, May 14, 2019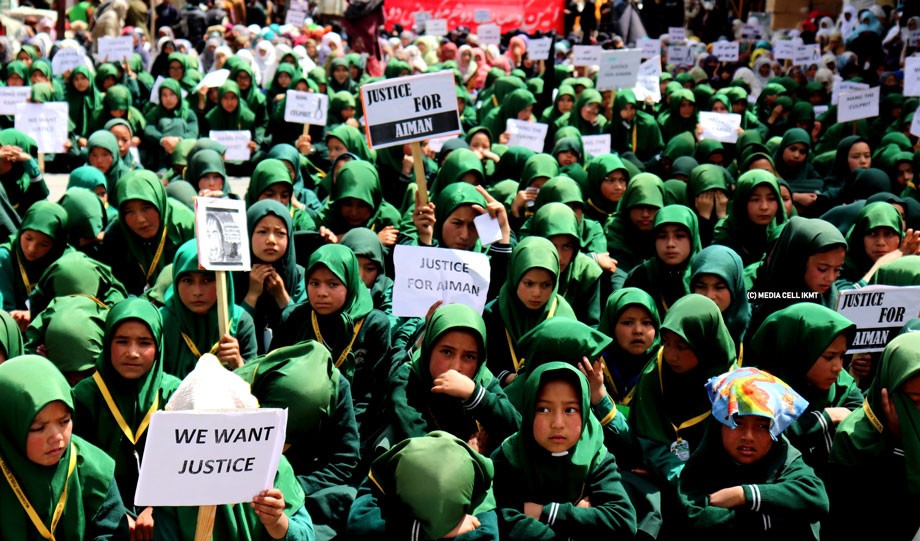 Kargil :
Imam Khomieni Memorial Trust organized a massive protest against the heinous rape incident of a 3 years girl child in Sumbla Bandipora in north Kashmir, on May 13 at Lal Chowk. 
The march started from Jamia Masjid passed through the main market the town and culminated at Lal Chowk where the leaders addressed the gathering.
The protestors in thousands were carrying placards and shouting slogans demanding justice for the girl and stern punishment to the culprit behind the act. The protest was joined by the hundreds of students from Mutharry Public School and hundreds of women from Zainabia welfare committee. 
Demanding fast court trial to ensure justice to three-year-old Aimen Zehra, Asgar Ali Karbalai, former MLA, Kargil urged the judiciary as well as the authorities to ensure justice to the victim child at their earliest. 
He reiterated that if justice was given to the Asifa case on time, such repetitions of heinous crime would not have occurred. He further said that he has spoken to the DGP Kashmir and SSP Bandipora and reiterated that there should be no leniency adopted while dealing with the persons involved in this act.  
Appealing masses not to pay heed to the rumors, Shiekh Bashir, Vice Chairman, IKMT said that while entire humanity and people of the state are together to fight for the justice to the victim. We should not allow any miscreant or vested element to create confusions over the sensitive issue and everyone must also ensure that the dignity and honor of the victim and her family is not dragged beyond a point. 
At the same time, Student Educational Movement of Kargil (SEMOK), Youth Action Committee Kargil and many other organizations also condemned this heinous crime.
In the end, an appeal was made to the state government to establish a fast trial court for hearing of the case.