Kargil observes complete shutdown demanding University in Ladakh
By
Sajjad Hussain
KARGIL, Nov 29, 2018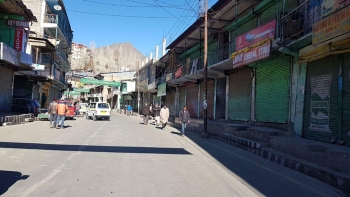 KARGIL :
Demanding a university for Ladakh in Kargil, complete shutdown was observed in the district on November 23.
The protest call was organised by Students Educational Movement (SEMOK) of Kargil supported by religious organisations including Anjuman e Jamita e Ulema Isna Ashariya and Imam Khomeini Memorial Trust.
Representatives of both religious organisations extended their full support with the students in demanding a university for Ladakh region in Kargil.
SEMOK representatives highlighted the importance and need of a university in the Ladakh region. They talked about the issues and problems of the students who are already pursuing their higher studies outside Ladakh.
Senior Advocate Ghulam Murtaza also stated that the students of Ladakh are suffering more in outside Ladakh.
However, the demand of a University for Ladakh in Kargil was also supported by the J&K Chairman Legislative Council, Haji Anayat Ali, CEC & EC's of LAHDC Kargil through various statements.