Jamyang Tsering Namgyal elected CEC of Hill Council, Leh
Seats of Executive Councillors reduced to three
By
Rinchen Angmo Chumikchan
LEH, Nov 16, 2018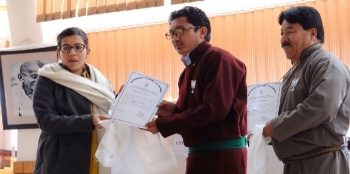 LEH :
In yet another reshuffle in Hill Council, Leh, Jamyang Tsering Namgyal, Councillor, Martselang, was elected unopposed as the third Chairman/CEC of LAHDC, Leh, at the Council Assembly Hall on 9 November. Likewise, Gyal P Wangyal, Councilor, Sakti, was elected unopposed as the Deputy Chairman.
The CEC seat had fallen vacant after Dorje Motup, former CEC, resigned on health grounds on 28 October. And the seat of Deputy Chairman was created recently when SAC approved the LAHDC Amendment Bill, 2018.
Now, the posts of Executive Councilors have been reduced from four to three. Subsequently, on 12 November, the seats of Executive Councilor were formally assigned with portfolios to three elected Councilors at a meeting held at the Council Secretariat.
Of the three seats, two seats have been retained by former ECs, Tsering Sandup, Councilor Panamik, and Mumtaz Hussain, Councilor Chuchot . Phunchok Stanzin, Councilor Skurbuchan has joined as the new Executive Councilor.
Ven Lobzang Nyantak, Councilor,Upper Leh, proposed the name of Jamyang Tsering Namgyal for the post of Chief Executive Councillor, seconded by Phunchok Stanzin, Councilor, Skurbuchan.
Tsering Angdus, Councilor, Saspol, proposed the name of Gyal P Wangyal for the post of Deputy CEC, seconded by Phuntsog Dorjey, Councilor, Phyang, for the running 5th Hill Council.
Chering Dorje Lakrook said,"In the history of Ladakh, a seat for Deputy Chairman has been created for the first time. Ladakhi people have high hopes on these two leaders and hope they will fulfill them."
Jamyang Tsering Namgyal, the new CEC, addressing the house, said that with the attainment of the new post of CEC, he had been made accountable for bigger responsibilities. He said that his priority would be to set up good governance.
He expressed gratitude to all the elected members with special honour to Ex-CEC Dorjey Mutup by presenting Khataks. He said that Dorjey Mutup has been "an exemplary leader for his honesty, sincerity and dedication towards people's welfare and stood as an inspiration to the young aspiring leaders."
The new CEC assured to work with dedication without any differences based on creed, colour, religion and region. He said, "I will take everyone along with me and put my best efforts in meeting the expectations of the people and seek coordination from the councilors, administration and the public."
Answering on the internal controversy in the party, Jamyang said, "I am the district party President and there is no controversy in the party. But there are some elements who are trying to damage the image of our party. Importance is given to new youth leaders. Everyone wants to connect with this party, be it youth, old or women. Some people cannot digest it so they are creating a rift in the party. But as a a responsible district party President, I assure you there is nothing like that."
But opposition councillors Thupstan Angchuk, Nyoma and Gurmet Dorjey, Korzok, have released a press handout which says: "We strongly condemn the manner in which the new CEC / Deputy CEC and ECs were elected by the BJP-RSS-backed Jammu wing, and the entire procedure which was personally supervised and directed by Ravinder Raina, BJP state President, present in Leh on 9 November, and totally sidelined and neglected the people of the Changthang region who were not given ' Executive Councilor' position in the current 5th LAHDC formation. We feel that the people of Changthang region have been badly neglected in this entire process of new Council expansion. They further demand that they should immediately fill the EC post of the region."
Ravinder Raina, State BJP President, wished both the leaders and termed Jamyang as an energetic and dynamic, and Gyal P Wangyal as a capable senior leader who has won elections thrice.
Gyal P Wangyal expressed his gratitude to everyone and said that he would work in coordination to take the BJP party and Hill Council, Leh, to new heights.
Avny Lavasa, DC, presented winning certificates to the newly-elected CEC Jamyang Tsering Namgyal and Deputy CEC, Gyal P Wangyal.